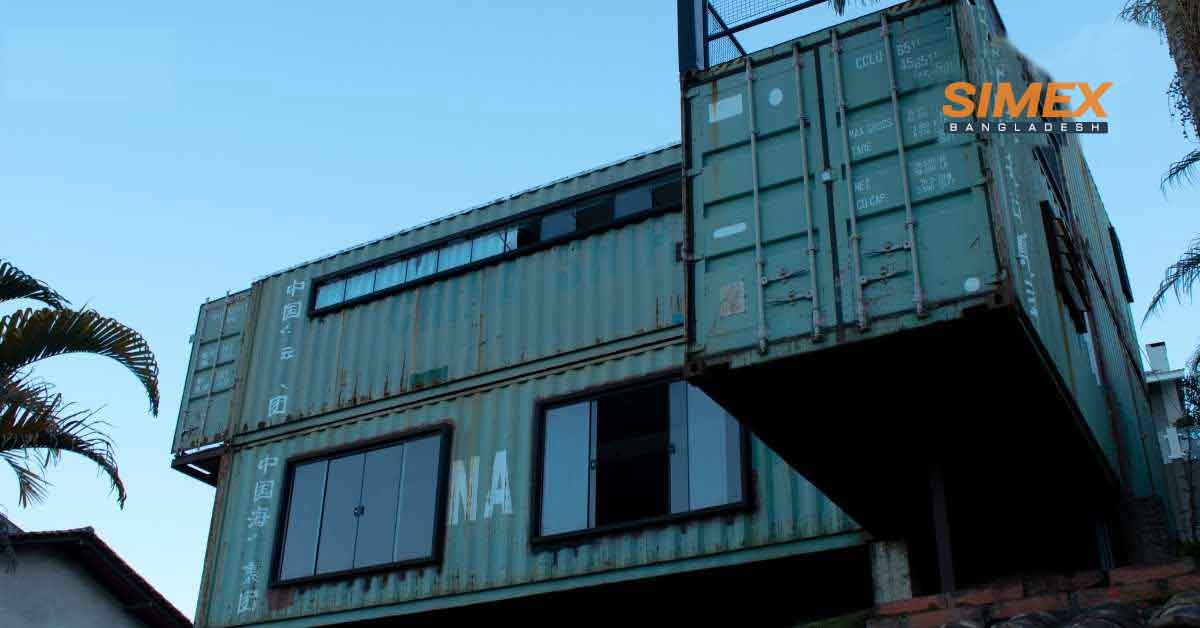 Affordable Shipping Container House For Sale In Bangladesh
The term "shipping container house" can be used to describe any type of residence that was built using steel shipping containers, we also can use it as Container offices building. While used containers are typically the choice for this purpose, new ones can be used as well. These containers can be used individually to create tiny homes, or they can be welded together or stacked to build much larger spaces. Single-family homes as well as multi-tenant apartment buildings can be constructed using these modular steel boxes. As mentioned earlier, they can even be used to construct student housing.
The shipping container house stacked together on trucks or in harbors aren't very attractive, but they are water-tight and surprisingly spacious. A container home is built out of these containers, but that's just the beginning. After necessary alterations are made, the result is a stylish and comfortable dwelling.
Containers are also "virtually indestructible". Shipping containers are designed to bear heavy loads, withstand harsh climatic conditions, as well as rough seas and can also easily be stacked one on top of the other to create multi-story homes. Their structural stability makes such homes earthquake and hurricane proof, which makes them extremely safe for natural disaster-prone areas.
What Is The Standard Size of a Shipping Container House?
The size of shipping container home is quite limiting and can quickly be consumed by plumbing, HVAC, insulation, and other systems. A container was designed to fit on a train, which means it's narrow, and ordinary furniture doesn't fit right.
Shipping containers usually come in two sizes,
Either 20 feet by 8 feet or
40 feet by 8 feet.
The smaller of the two equals about 160 square feet of living space, while the larger container gets 320 square feet.
Types of Container Houses
Detachable Flat Pack Container House
Foldable Container House
Detachable Shipping Container House
Detachable Container House
Shipping Container House Price
Basically, the container house's prices are depend on its size and design. In market, there are two standard size for this product. One is 20 x 8 x 8 ft. covering a surface of 160 sq. ft. which price is around $1500 to $3000 per unit and the another 40 x 8 x 8 with a surface of 320 sq. ft. is around $3,500 to $4,500 per unit.
But there is not a stable price range in market. Container House Design is also influenced its price.
Factors of Building a Container House
Size, layout, design, and the number of containers required

Welding and Fabrication requirements
Cleaning cost if the container is used
Plumbing and electrical
Siding
Flooring
Kitchen and bathroom finishes
Lofts
Windows
Doors
Insulation
Process of Building a Container house
The insulation of a shipping container home can make or break the entire build.
Choosing containers is one of the most important stages of the container house build.
Make reference to zoning and building permits.
While planning isn't necessarily the most exciting part of the build, it is definitely one of the most important.
Setting a Realistic Budget
With self-builders in particular, site preparation is often an overlooked step because it doesn't feel productive and is something that can be done, as and when it's needed.
Rust Treatment and Prevention
How Long Does A Shipping Container Home Last?
The lifespan of a shipping container home varies depending largely on the environment in which it is located. Generally speaking, though, a home built from used shipping containers should last about 15 years without any major maintenance, and one built using new containers should last about 25 years.
Pros of Container Houses
Durability
Sustainable
Cost-effective
Customizable
Eco-friendly
Structural stability
Off-Site Construction
Container House Building Companies in Bangladesh
In Bangladesh, there are many companies that build a container house. SIMEX Bangladesh is one of them and well known as the best shipping container supplier in Bangladesh.
SIMEX Bangladesh is one of the fastest-growing companies in Bangladesh. Our products are used in diverse applications from general projects. All of our products meet the most stringent requirements as per international standards when it comes to reliability and quality.
SIMEX Bangladesh provides a wide range of construction, industrial, commercial, road, and bridge supplies. We specialize in Steel Pipe, Plate, Sheet pile, Heavy Equipment Sales/Rental, Prefabricated Vertical Drain, Rail Line Ballast, Stone Chips (Dubai, China), and General Purchase.
Our honorable clients are – Bangladesh Economic Zone Authority, Roads and Highway Development of Bangladesh, Local Government Engineering Department Of Bangladesh, Bangladesh Oil Development Board, Italian Thai Development (Dhaka Metro Rail Project), Sinohydro (Dhaka Metro Rail Project), Xingweng Feng Trade Co. & Ltd., Wellstone Co & Ltd and many more.
Services of SIMEX Bangladesh in Building Container House
SIMEX Bangladesh's container houses are built with EPS sandwich panels at 50mm thickness, galvanized steel beams, and columns.
SIMEX Bangladesh's container homes come with standard stainless steel door, high-grade aluminum alloy windows, and magnesium oxide (MGO) board floor. Customization options are available for these components with advanced materials to choose from.
Our container homes are built to last for 15-25 years. There are many variables that will determine the longevity of the flat pack container home, but with care and maintenance, it is expected to last even longer.
Contact Us
Contact with the best shipping container supplier in Bangladesh and build your container house, or inquire about what we can do for you. We have dedicated customer service representatives who can answer all of your questions. We're always happy to provide you with our services and information over the phone or schedule a time to discuss your project face to face.
———-
Sales: +8801733331033
Engineering: +8801733331032
销售老板: +8801733331031
Mail Us:
Head of Sales: [email protected]
Head of Engineering: [email protected]