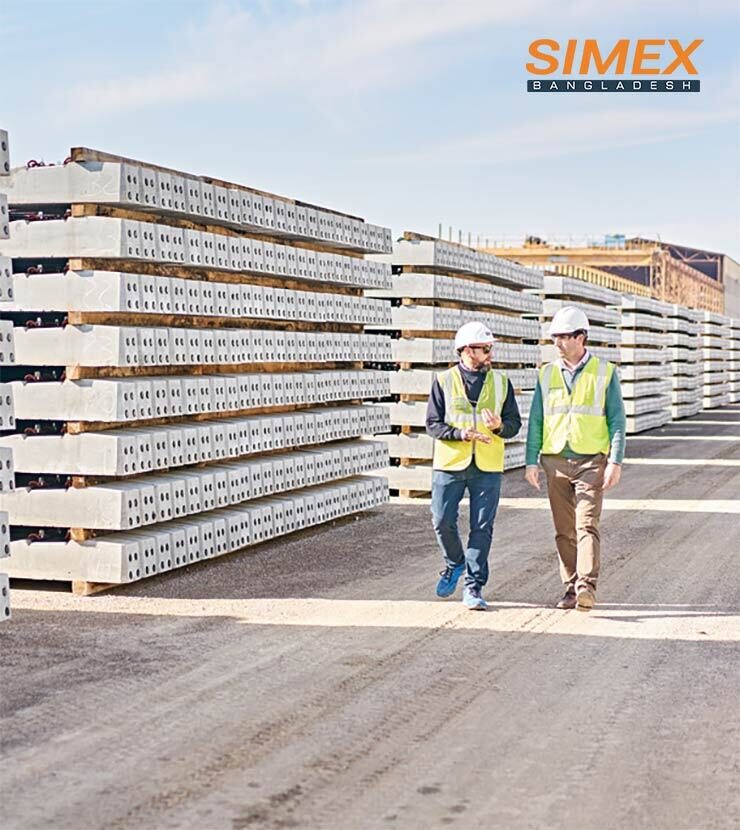 Precast Concrete Product Overview
Precast concrete is a construction element made of casting concrete in a reusable form or mold that becomes shaped in a controlled environment. First, it is cast in a structural form of any particular element, and after that, it has to be placed in the final position. SIMEX Bangladesh is a manufacturer and supplier company of precast concrete products like precast piles, pipes, beams, stairs, culverts, and other things. Moreover, these types of precast concrete can give you time efficiency, safety, quality assurance, durability.

Also, it is possible to reduce wastage if industries or other construction projects use precast concrete. It is resistant to fire and floodwater and can be deconstructed easily if repair is needed. Structures made with precast concrete can have high strength; for example, precast concrete wall panels can hold a load of about 100 thousand pounds. In our country, precast concrete technology has become well spread. SIMEX provides precast concrete piles to marine installations and foundations driven in the land using pile driving equipment. Our Precast concrete pipes are designed to meet any loading requirement of our clients.
00

+

Our Running Projects
Almost all construction sites need a sheet pile for their construction projects. We have a new and used sheet pile available in stock and ready for sale. We are the renowned sheet pile supplier in Bangladesh. Our products meet the requirements as per international standards.
00

%

Satisfied Clients Rate

Benefits of Precast Concrete
SIMEX produces different elements with precast concrete that saves the site from several defects, propping, and cost of Scaffolding. Plus, these elements lower the cost of workers, tools, and material storage in project sites.
Our precast concrete materials are available in many shapes and colors.
They have an easy maintenance cost.
You will find precast concrete products cost-friendly, and they have Weather-resistance.
The installation process is really simple for each element made with precast concrete.
They can be replaced easily from one place to another.
Speed up the process of the whole construction.
Reduce working time on site.
We are the Best Precast Concrete Manufacturer Company in Bangladesh
Many construction companies are working to make precast concrete elements for various construction in Bangladesh. SIMEX Bangladesh is one of them which fabricates and supplies these products to any project location. They can create any quantity of blocks, fences, concrete walls, slabs, staircases, and more structures. SIMEX has private customers as well as governmental clients who need our services regularly. Any size, color, length, thickness, and other specifications on concrete products can be considered for our clients.
Our Offer On Precast Concrete
SIMEX serves best-designed and well-structured concrete items for different industries, projects, or personal uses. All the materials are formulated by following world-class standards. We have SALE services for these elements by giving clients cash and credit offers. Here, you will get a one-stop solution for different product requirements in SIMEX. In addition, our company always ensures best-quality and quick delivery within the time. 
Why Choose SIMEX Bangladesh?
SIMEX loves to take challenges and accomplish them from the core by making design, product, and serving clients. Besides, maintaining an affordable price and giving professional support is our goal. For example, we have many ready elements of precast concrete. Also, we can build them in budget price knowing customer's necessities regarding them. You will get the transportation service from us no matter where your project location is! Also, our products have a simple installation process which will give you no pain installing them. Furthermore, if you need any support from us about installing concrete structures, we can provide our skillful crew of engineers to solve your problem.
Common FAQ's About Precast Product
Yes. Precast concrete ensures fire protection, and it doesn't need additional measures because it is fireproof. It prevents fires from extending and reduces the risk for building residents.
- As an advantage, precast concrete piles gives construction site safety, quality assurance, and it is durable. Plus, it is fire and flood-resistant. On the other hand, if people cannot handle the piles properly, then damage to precast units can occur during transportation. Plus, it requires special tools or equipment for moving and lifting to precast units.
The thickness of the precast concrete slab is 30 mm.
Precast concrete is a construction component built with casting concrete in a reusable mold that can be shaped in a controlled environment.