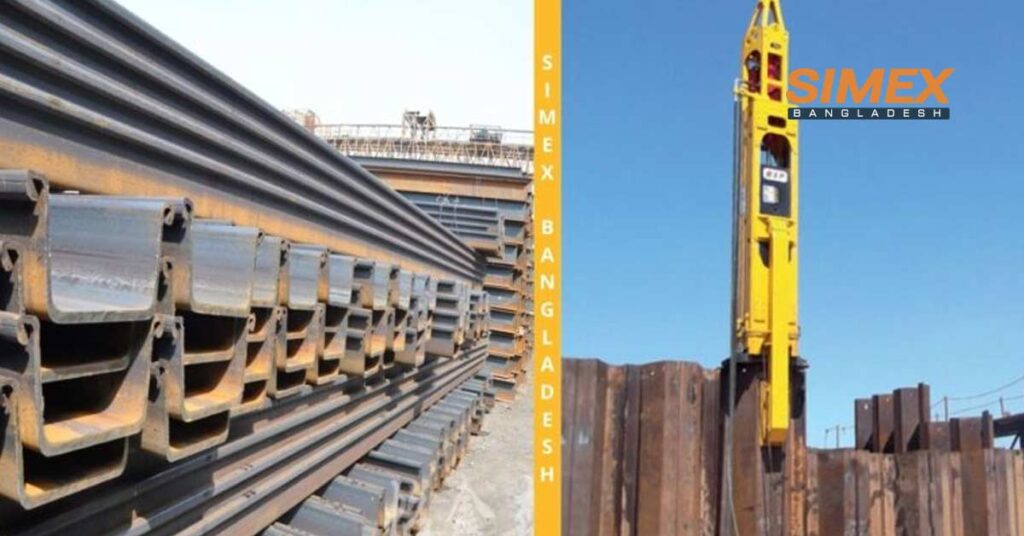 Sheet Piles are common types of land retaining structures made up of individual sheet piles and driven underground. A vertical set of unendingly interlocked piles forms a versatile vertical wall referred to as a sheet pile. It is light in weight and don't need dewatering, they can hold earth pressures and might tolerate giant deformations. It serves as a supporting wall that has been driven during a slope or creek to support soft soil slides from high to low ground. Most of the sheet pile supplier in Bangladesh are professional to export quality products. The thought of pile is pretty easy, where a wall or siding has to be command back, it is impacted into the land at preset intervals. With vibratory or impact hammers, the sheets are driven into the soil. Sometimes, they'll be installed with hydraulic presses.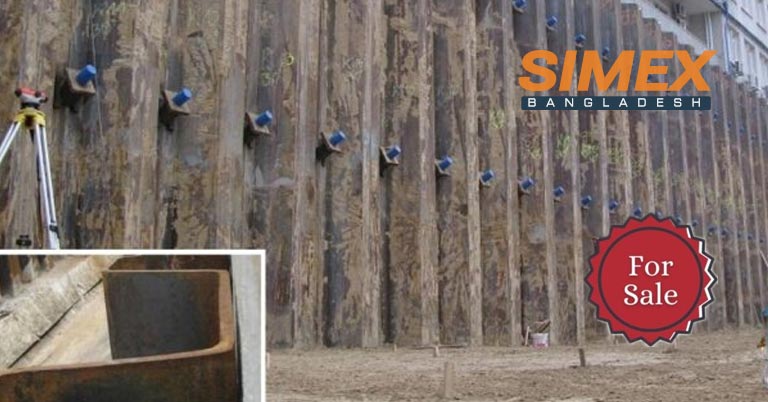 Sheet piles are made with many types of strong materials. Mainly sheet piles are made with steel, timber, vinyl, polymeric, aluminum, precast concrete, etc. Usually, the material used to make piling sheets is steel, but wood, vinyl, timber, polymeric, aluminum; precast concrete sheets are also used at times. The concept is to design narrow, interconnecting sheets that can be connected and driven into the underground. Durability and strength are defined by the shape and materials of the sheet pile.
For sheet pile installation, there are two basic driving methods – pitch drive and panel driving. For a successful sheet pile driving there has Some key elements are using for making successful the sheet piling process. These elements are- topographical features, geological situations, using the most perfect type of sheet section, and the appropriate choice of driving hammer.
Engineers apply some methods for sheet piling. Vibrating, impact driving; hydraulic pushing, jetting, and trenching are the most common methods of installing steel sheet piles.
We have considered many issues, installing the sheet piles including: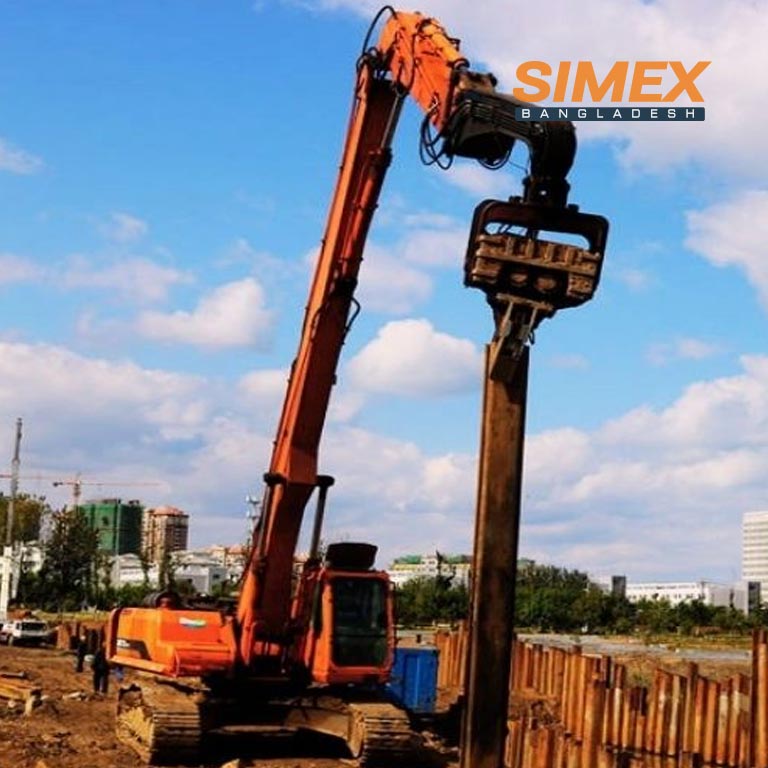 Engineers and constructors follow some basic installation steps for install sheet piles. The sheet piling installation steps are –
Mainly, how many sheet piles will install a day totally depends on the condition of the soil. There is a matter of low-tide and high-tide, the ground is solid or soft.
If there is low tide, it is difficult to install a sheet pile. In this case, only 5-10 sheet piles will be installed.
If there is high tide, installing sheet piles is easier. It is possible to install 15-20 sheet piles when high tide occurs. In soft soil and the middle of the water, installing a sheet pile is easier.
Why We Can Use Sheet Piles
Mainly, Sheet pile has been used to support mining for underground parking structures, basements, pump houses, and foundations, to construct tunnels, seawalls, and bulkheads.
Temporary sheet piles are used in tunnels and other temporary works like deep excavations to simplify construction at underground and water levels. The sheet piles are usually extracted for reuse, after completion of construction. Temporary sheet piles can make from wood, vinyl, timber, polymeric, etc.
Permanent sheet piles are basically steel sheet piles. They are installed permanently as retaining walls, bridge bends, underground storage tanks, basements, and underground car parking. Steel sheet piles are the most popular due to its high strength, durability, ease of handling, and ease of construction. To provide a long service life, permanent steel sheet piles are designed.
Engineers choose sheet pile for construction because it provides extreme resistance to driving stresses. It is lightweight also. It can be reused for many functions. It has long life above or below water with less protection. By welding or bolting, they are easy to customize pile length. During driving, very few are not suitable for the joints to be broken.
Top Sheet Piles Supplier in Bangladesh
Sheet piles are a must-needed construction material. So almost all construction sites needs a sheet pile. Bangladesh has many companies that supply sheet piles; SIMEX Bangladesh is one of them. We have new and used sheet piles available in stock, ready for immediate dispatch.
SIMEX Bangladesh is one of the renowned sheet pile supplying companies in Bangladesh. Our products are used in all applications from all types of projects. All of our products meet the requirement as per international standards when it comes to reliability and quality.
Headed by business experts, SIMEX Bangladesh proudly brings to the market not only over twelve years of experience but a full complement of resources, capability and expertise to assist in projects of all sizes from conception to completion.
Our competence, together with our people skills and communication skills, means that we can provide flexibility, high quality and innovative ideas. SIMEX Bangladesh's Employees have considerable piling experience and can provide expert advice on all types of piling operations and installation techniques.
Basically, SIMEX Bangladesh is considered best sheet pile suppliers in Bangladesh. Let's discuss about it's top demanded sheet pile products –
U type Sheet Piles are made with U type profiles connected with each other at both sides to form a stretched wall, which has center lines in the middle of the double U section wall. U type sheet piles are also designed reasonably and have a high-quality factor. It more stable than any other type of sheet piles.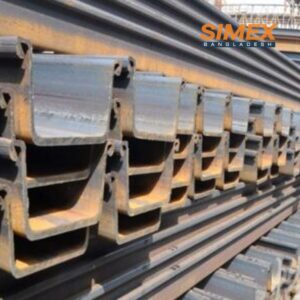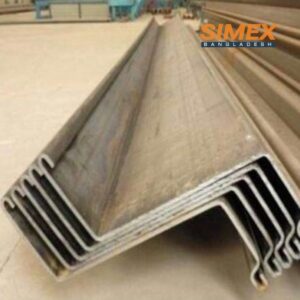 Z type sheet piles are produced in the shape of the English letter Z. These sheet piles are usually driven in crimped or welded doubles. Z type sheet piles are widely used in doing deep foundations.
Another name of a hat type sheet pile is a pan-type sheet pile. This sheet pile has a relatively small section modulus. The effective width of a hat type sheet pile is 900mm (Maximum in the world as rolled piles). The piling direction is the same for each pile. It has a straight and effective section. It is mainly used in doing foundations under deep water.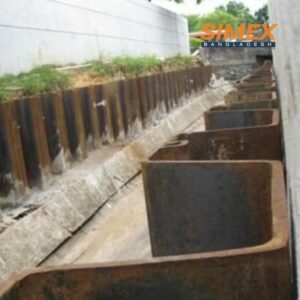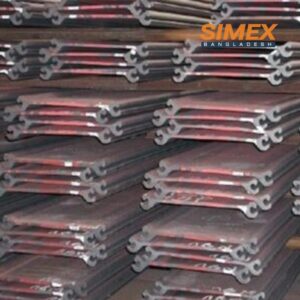 Straight web sheet pile are normally shaped with close tubular structure, which is widely used in making tunnels, pier, construction of a port, etc. Where rock layers are quite superficial, their straight web sheet piles are mostly used. Straight-web sheet piles can be both temporary and permanent.
For supplying sheet piles, SIMEX Bangladesh has more than 12 years of knowledge in the civil engineering sectors. Through our uplifting perspective on plans and our goal-oriented thoughts, we have built a good reputation on selling sheet piles. We are committed to delivering to our clients a professional and no fuss service. We are pleased with the information and experience we have acquired and we are fully focused on being a market leader in the many years to come.
Why You Buy Sheet Piles from SIMEX Bangladesh
SIMEX Bangladesh is a leading construction company & sheet pile supplier in Bangladesh. We supply all types of construction materials including sheet piles. Our sheet piles are made with high-quality and strong steel. We have a professional engineer and constructor team, who will help customers in choosing which types of sheet pile need will need for their project. We delivered sheet piles all over the country.
Using of steel sheet pile in construction site is increasing day by day in Dhaka including allover in Bangladesh. We delivered different types of sheet pile in Dhaka also in whole Bangladesh. For selling high-quality sheet pile in Bangladesh, SIMEX Bangladesh is a leading company in this native industry.
SIMEX Bangladesh has a fleet of modern, safe machines available to perform sheet pile installations of all kinds in all locations. We are supplying fresh and new sheet piles to our customers. For supplying accurate products to our customers, SIMEX Bangladesh becomes a trustworthy construction company to them.
Trusted Sheet Pile Supplier in Bangladesh
Make A Safe Deal With SIMEX Bangladesh Akash Ghosh
You can go to their storage or warehouse to check the u type sheet pile after you confirm the order. Their expert team will help you to choose the best one. That's why I trust about the quality of the u type sheet piles of SIMEX Bangladesh. Hope we can do business again with the best U type Sheet Pile Supplier in Bangladesh. Shaikat Azad
SIMEX Bangladesh is a professional Sheet Pile Supplier Company in Bangladesh. I found the best sheet pile from them which I wanted from long time. Looking forward to more cooperation in the future. Muhaimin Akandh
Very friendly customer service, no hidden fees or nonsense billing issues and quick delivery made it a great experience. Being the best Sheet Pile Supplier in Dhaka, it gives the best services as every customer expect. We'll buy more sheet piles again from SIMEX Bangladesh. Rocky Khan
We wanted to express our appreciation for the excellent and best quality sheet piles that we purchased from SIMEX Bangladesh. Your staff not only delivered the steel sheet piles within the time allotted but also helped to keep the cost within budget. So undoubtedly I recommend SIMEX Bangladesh as the best Steel Sheet Pile Supplier in Bangladesh. Prince AHMED
We wanted to express our appreciation for the excellent services that we received from SIMEX Bangladesh in buying sheet pile. Their professionalism shows in management, quality of work and customer service. We are pleased! If anyone looking for any Sheet pile supplying company, please contact them. Reon BD
Very nice business experience with SIMEX Bangladesh on sheet pile. They delivered very fast with good quality steel sheet piles. We would buy more sheet piles in the future from the leading Sheet Pile Supplier in Bangladesh. Alimur Gazi
For buying the best and high-quality u type sheet pile I found SIMEX Bangladesh. That is the best U type Sheet Pile Supplier in Dhaka I can rely on. They are very friendly and answered my entire question about u type sheet pile patiently. Their products are best. Muslima Kaniz
Very smooth and easy buying process. The delivery was prompt and they delivered the sheet piles where we wanted it. We are very pleased with the best Sheet Pile Supplier in BD as well. Thank you SIMEX Bangladesh! Akther Ali
I have bought U type Sheet Pile from them for many times, the quality very good and the process was very smooth, I will buy again. I'm very satisfied with the whole SIMEX Bangladesh team. Thank you! I strongly recommend SIMEX Bangladesh the best U type Sheet Pile Supplier in BD.
Momen Talukdar
An amazing experience with purchasing sheet piles from SIMEX Bangladesh. The company was promised us for giving the best sheet pile we want. If anyone searching any trusted Sheet Pile Supplier, I would highly recommend this company. Anish Ahmed
I have recommended SIMEX Bangladesh who has viewed the work they have done for us. I would not hesitate to recommend them in the future; we are very pleased with the work and products of the company. Animesh Mukhergy
SIMEX Bangladesh immediately became part of us and they know how to gain clients trust! They kept the clear idea about their product. Purchasing products from SIMEX Bangladesh is nothing short of a first class experience. Susmita Debnath
Thank you for an excellent service. Quick and efficient throughout the whole process from choosing to delivered of a product. Keep up the high standard. Samoli Sarkar
SIMEX Bangladesh is extremely professional and easy to work with and purchase any product. They are constantly growing with the new trends in the market and offer unique products at least prices. Joynal Gazi
SIMEX Bangladesh could not have taken better care of us. The entire team lives and breathes excellence in everything they do what we want from them. What an awesome service and products they offer us! Thank you!