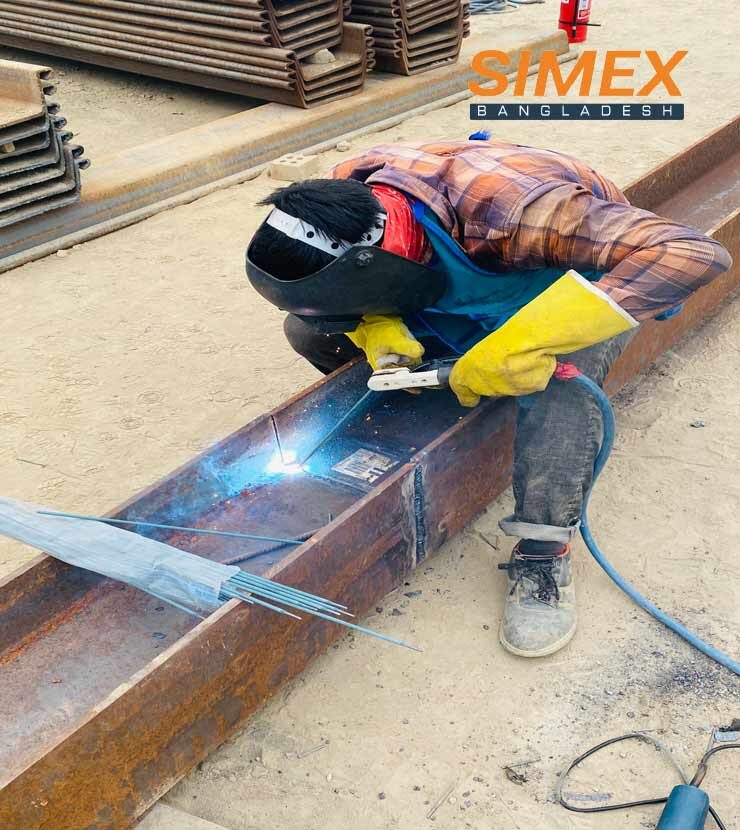 I Beam & H Beam Overview
SIMEX is the best structural steel beam importer and manufacturer company in Bangladesh. We have qualified engineers who follow advanced technology to customize steel beam shapes and sizes. We sell, rent, and buyback on all structural H beam and I beam. Also, our company provides credit offers on all structural beams. No challenge and project size is tough for SIMEX. We supply door-to-door materials in time at a competitive price.

Our imported steel is ASTM standard. Also, we provide locally made Q234, Q235, Q345, and Q400 graded fabricated steel. You can use these steel beams for various projects, including hotels, factories, airport lounges, office buildings, shopping malls, and so on. Build your future project with H-Beam and I-Beam. Contact us on +880 173 333 1033, and we will answer your every query. 
00

+

Our Running Projects
We are the best manufacturer, supplier, and importer of I-beam and H-beam. SIMEX always focus on high-quality, durable, and high0resistance steel beam. Do you want to buy a beam for your project then contact us. We provide door-to-door service by maintaining products quality. 
00

%

Satisfied Clients Rate

Features and Specification Of H-Beam and I-Beam
SIMEX is the most remarkable local made and importer company. We serve all structural beams solutions according to your needs. Our company supplies universal I beams and hot rolled H beams in all standard sizes, including 201, 304, 304L, 316L, Duplex, 904L. I Beams and H beams are the most popular and widely used imported steel in construction sites. We can supply all sizes of structural steel channels. 
Universal I beam is lightweight than the H beam. 

I beam has a thicker center web than H beam means I beam is stronger. 

H beam can be built up to any size or height and I beam can be built as per manufacturer's milling equipment allows. 
If you deal with a professional and skilled construction company then you can get the best solution to grow higher. We give the best priority to our client's requirements. Do you want to build your dream projects with us? Please contact us and provide your next project plans.
Which Do We Offer On Imported Steel?
If you want to get Welded and Rolled Structural Steel I beams, and H beams, then you are in the right place. Here, you can get high-quality imported steel at fair prices. We specialize in exporting and importing stainless and hot-rolled steel beams that are used for airport lounges, playgrounds, factories, malls, and many other constructional projects. 
Sale Service
We always serve high-quality construction items and steel. H beam and I beam is the most demanding item in various construction projects. We can fulfill all your desired shapes and sizes I beams and H beams. You can rely on us without any doubt. SIMEX has experience in imported steel because we use I beam for Jetty Construction. We have flawless engineers and expertise to help you select the perfect imported steel for your projects. Do you want to start from today? Contact us. 
Rental Service
SIMEX is one of the largest  imported steel companies in Bangladesh with many mega projects. We offer a rental service to give clients proper solutions. Whenever you choose SIMEX, you get your product in time and perfectly.
Quick delivery, time management, and quality is our main concern.

We also update our inventory to sell used equipment at very favorable discounts. 

Imported steel rental and delivery, erection, and dismantling services help you run the project smoothly.
When good and high-quality structural steel and hot rolled steel come from the biggest suppliers and manufacturers, it helps to provide high security and quality. With us, users can explore fabulous rental services for home and construction projects (industrial, government, and university clients). Contact us to know more about rental equipment available for sale. 
Buy-back Service
Buy-back Imported steel service is the most effective and unique program for the construction company. By accepting these programs, users benefited most. 
By ensuring the buy-back agreement, you are obliged to maintain the buy-back amount and time in advance. 

We offer the buy-back service, where we supply imported steel items. And you get a satisfying percentage of the original price when your project is done. Doesn't that sound great? 
For more information on Structural beams (I beams and H beams) contact us and get the best service from us.
Why Choose SIMEX?
SIMEX is one of the biggest I beam and H beam suppliers and manufacturers. We work with different countries, including Japan, China, India, Korea. As a certified steel supplier, we provide all construction solutions for our clients. Our experienced engineers are always on your side to provide high standard, strong, customized shapes, and size structural steel beams. So, you can rely on us to serve you perfectly. You can use this steel for hotels, offices, bridges, and many more. Call us now to start your next projects together!
Common FAQ's About H Beam & I Beam
H-beam is longer, wider, and heavier than I beams. H beams are used for cross-sectional distribution area and I beams are quite good for supporting the extra load. H beam takes more force than I beam.
I-shaped girder is minimum than all other beams. I shape beam has great resistance with the least amount of weight. I-shaped girders are symmetric.
H-beams are stronger than I beam though both of them use semantically for various construction projects.