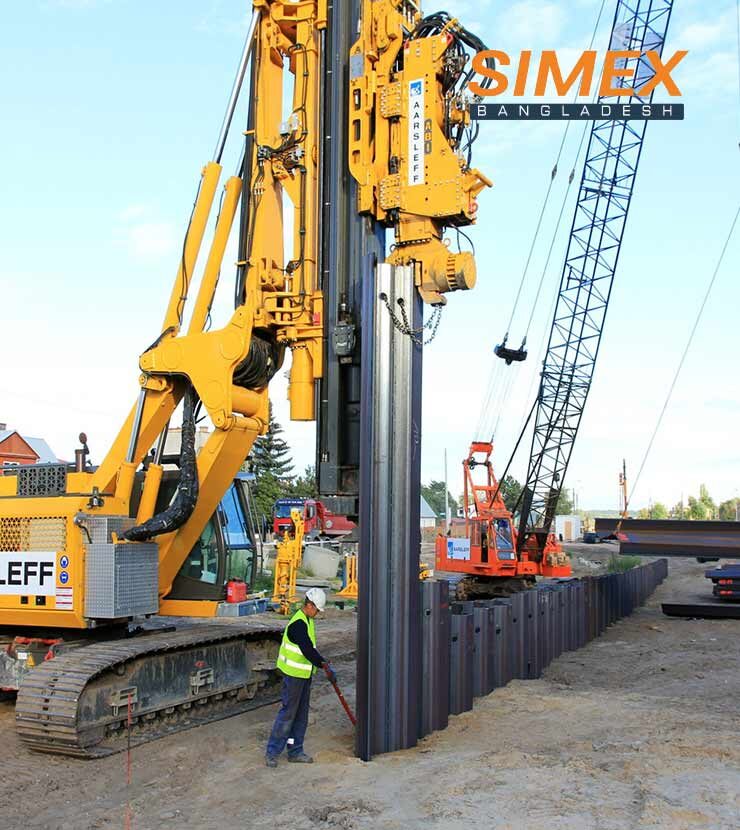 Steel Sheet Pile Overview
SIMEX is a supplier of Sheet Piles with different shapes and types to construct Jetty, Commercial Buildings, Basements, Tunnels, Sea Walls, etc. Sheet Piles are sections of steel sheets with a vertical interlocking system to retain land or water. In SIMEX, we sell, rent, and buy back sheet piles and all the materials related to construction. SIMEX gives door-to-door delivery, which means our clients will get necessary items on time to arrive at their location. We do not compromise with product quality, and we assure you of high-quality steel sheet pile products at a very competitive price.

In addition, SIMEX also provides materials to customers in cash or in credit with Bank Guarantee (BG) to pay later. If you have any queries or need more details about us, please feel free to contact us.
00

+

Our Running Projects
Almost all construction sites need a sheet pile for their construction projects. We have a new and used sheet pile available in stock and ready for sale. We are the renowned sheet pile supplier in Bangladesh. Our products meet the requirements as per international standards.
00

%

Satisfied Clients Rate

Features And Specifications of Our Sheet Piles:
Come in different sizes and lengths.

Cost-effective and easy-installable.

Under the water, our Sheet Piles last longer for coastal or marine projects.

Can be reused and are also recyclable.

Used to make Cofferdams in any shape, circular or rectangular.
Services That SIMEX Provides:
SIMEX provides 03 types of services to its clients as Sale, Rental, and Buyback. Anyone can choose any services from the three, and contact us for knowing more information and getting details:
SALE
SIMEX sells the new and used best-quality Steel sheet piles and other construction materials. Our clients also buy different tools or equipment to install sheet piles on their land. You may think that why should you take sheet pile from us? Well, we can assure our products meet the international standard requirement in reliability and quality matters. Our people have excellent communication skills and experience working with piling operations to give advice that will improve your construction works.
RENTAL
As there are thousands of ongoing development projects in Bangladesh, such as Dhaka Metro Railway, Padma Bridge, more, the construction companies need many construction elements. Keeping that in mind, we focus on providing you quality-product with fast delivery. Whether our clients need sheet piles from us for housing, industrial, or governmental project constructions, we are always ready to serve them with the best service.
SIMEX's rental service is here for renting the products to the companies. Also, we rent light or heavy equipment to different sizes of construction companies no matter they are small, medium, or giant. We usually rent below items –
Crawler Crane

Vibro-Hammer

Generator

U-type Sheet Pile and more
BUYBACK
Buyback refers to re-purchasing products from clients after they finish using your product in their project. Buyback is an agreement of any company that willingly provides buyback services to their clients. SIMEX does it because customers often get troubled with construction elements or tools and think where they will place those as they won't need the equipment in the future. So, it will be beneficial for them if there is a buyback system so that the clients return the equipment to their vendor end of the construction works. In SIMEX, here we follow a process while we buyback products from our clients:
You can use our elements or tools for 06 months or more by purchasing them with our buyback program.

We provide you with a satisfying amount when we re-purchase our equipment or products from you.

Last but not least, you have to obey the rules we set for Buyback, and if you accept Buyback's agreement with us, you must make the payment on time before taking our buyback service.
Why Choose SIMEX Bangladesh
We, SIMEX, are one of the top construction companies in Bangladesh. People work with us from Japan, China, Korea, India, and other countries. We assure our clients to fine-tune all types of their construction projects, whether high-stored buildings or bridges.
Our mission is to provide our clients first-class support with maintaining works on time. We do Sheet Pile installations in your construction areas with our equipment and workforce. If anyone takes service from us, we consider providing them Crane operator and signalman, Hammer and Generator operator, Lifting supervisor, Welder, Electrician, and Safety supervisor. So, our clients can rely on us about these matters, and they don't need to worry about Sheet piling on their land.
Plus, SIMEX offers a very affordable price for different services. Competitive pricing helps people judge other company prices and efficiently decide if we can serve them within their budget.
As we have extensive experience of maintaining construction projects related to making restaurants, buildings, bridges, etc., clients will work with our unit who know commercial constructions very well. We have a greater success rate because we ensure quality construction solutions for our clients. Also, SIMEX maintains great companionship with customers and loves doing their works repeatedly afterwards.
Common FAQ's About Sheet Pile
Steel Sheet Piles is a permanent solution for where it is installed. They last without breaking down for more than 70 years.
Sheet Piles can be used for making temporary and permanent structures too. As they are reusable and recyclable, it is simple to use Sheet Piles for any purpose and reuse them.
Sheet piles of 6 to 30 pairs can be installed in an area in a day.