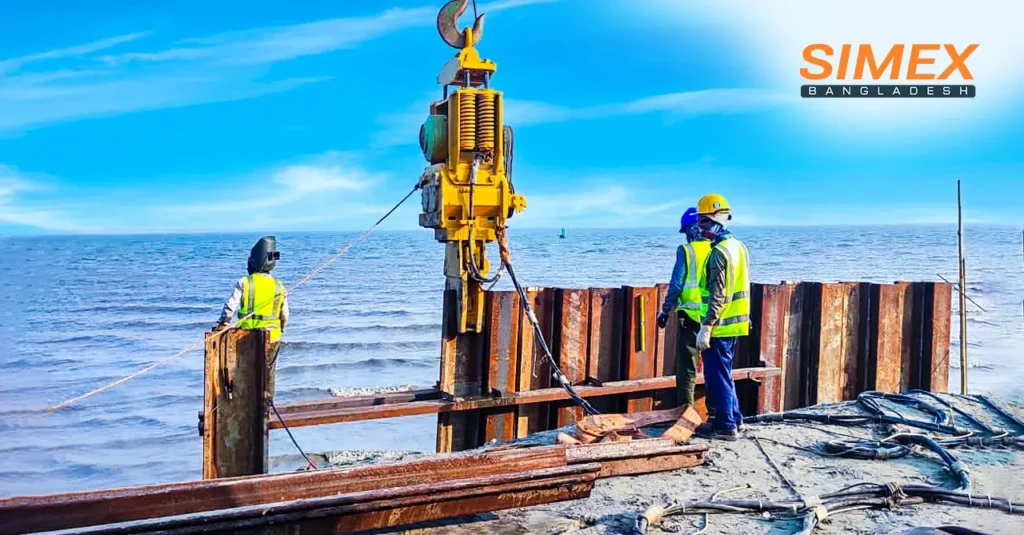 SIMEX Offers Temporary Or Permanent Jetty Construction Services With All Exclusive Facilities
Are you in the market for a jetty for your business or establishment? SIMEX Bangladesh has developed expertise in jetty construction. We boast a 100% completion record on all projects while adhering to exceptionally high job safety and production standards. Our commitment to flawless execution is seen in the results of each of our projects. Our jetty construction services bring a strategic approach to meet customers' requirements in both the public and private sectors. SIMEX prides itself in selecting temporary works solutions and employing working methods that respect the natural surroundings while achieving the Client's objectives.

We build permanent and temporary jetty. Our jetty construction service is cost-effective, and we prefer a monthly payment system. With us, you get free site surveys, estimates, and BIWTA jetty permission (if needed).
00

+

Our Running Projects
Our Recent Jetty Construction Project
Are you searching for the best Jetty Construction Service provider for your business or establishment? SIMEX has the experience and expertise to construct any size of jetties. We have already done 4 major jetty projects for Power China, CRCC in Bangladesh. In Jetty Construction, SIMEX uses both (concrete & steel) sheet pile that gives a sturdy and stable base for construction. SIMEX also provide a simple, modified full-scale marinas design.  Our 4 major jetty construction projects are mentioned below:
00

%

Satisfied Clients Rate

Our Expertise On Jetty Construction Services
To build jetties, SIMEX drew on its expertise in engineering and experience. The business is able to provide both substructures and topside installation services. Using hammering, drilling, vibrating, or a combination of these methods, steel piles that are vertical or raked are bent repeatedly to form the substructure of a jetty. All types of pile caps, headstocks, temporary and permanent bracing, topside modules, navigational aids, conveyor belts, crane structures, and any other facilities needed for the project are installed during topside installation work. Additionally, we have been able to aid the timely arranging and painless transfer of huge structural components from all over the world thanks to our deep understanding of handling, inspection, unstuffing, pre-assembly, installation, and testing methods.
Marine and Jetty Piling:
Whether a building is being constructed on land or in the sea, piling is a crucial step in the process. Due to our extensive expertise, we have extensive knowledge of Asian waters and their seabed conditions. Additionally, the combined wisdom and expertise of the construction industry have been passed down to our staff.
Jetty Maintenance:
In Asia, notably Bangladesh, many jetties and wharves require constant marine repair. Being a coastal area, marine maintenance is crucial to ensure that our aquatic way of life is safe and can be continued to be enjoyed.

We take great care to do work delicately when performing marine maintenance, minimizing disturbance to tourism activities and the environment, including nearby beaches and access roads. Anyone who wants to protect their investment and ensure the longevity of their jetty must do regular maintenance on it.
Why Trust SIMEX For Jetty Construction Services?
SIMEX Bangladesh has the experience and expertise for a wide range of jetty construction including ports, government sectors, multinational companies, and other construction companies. Most of the coastal and river creek construction plans need proper maintenance to reduce the risk factors. To maintain these factors, you need experienced company and professional engineers. 
With SIMEX, we serve you all possible solutions along with jetty design services. We always offer simple and modified designs with full-scale marinas requirements. Our jetty construction cost is reasonable. 
As we have extensive experience of maintaining construction projects related to making restaurants, buildings, bridges, etc., clients will work with our unit who know commercial constructions very well. We have a greater success rate because we ensure quality construction solutions for our clients. Also, SIMEX maintains great companionship with customers and loves doing their work repeatedly afterward.
Common FAQ's About Jetty Construction
Jetties are built on coastal bays, islands with manpower. They are made with wood, concrete, stone, and other materials. Also, Jetties are constructed in coastal areas for giving sand bypass facilities, cargo export/import, seawater intakes, and more.
Jetties work as a barrier to protect the shoreline of water against erosion from waves, tides, and currents. For unloading cargo and docking ships, they are used for connecting the land area with water away from seasides or coast.
There are mainly two types of jetties. One type is built at river mouths, and another kind is on coastal entrances.
Jetties are usually last for 30 to 50 years without having any major repair.