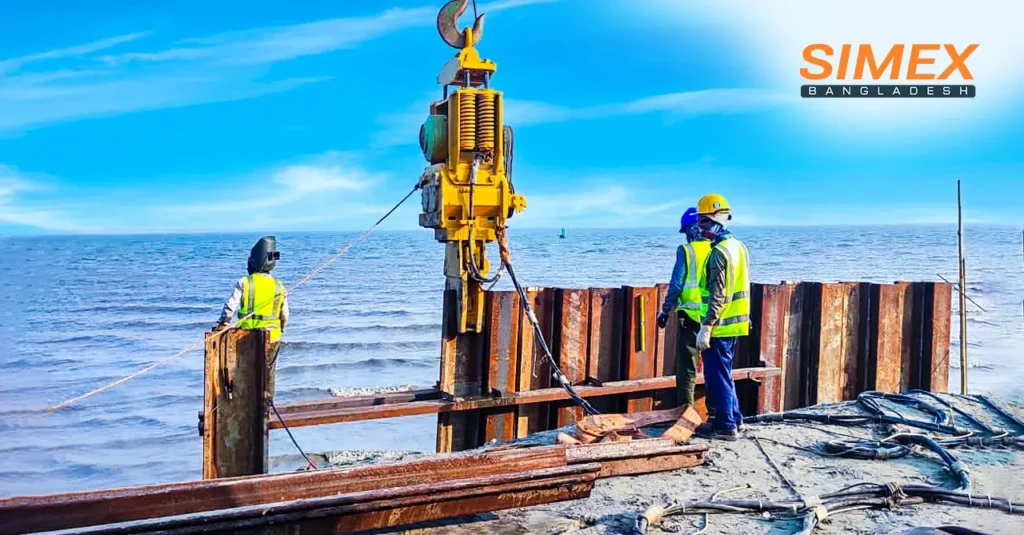 SIMEX Offers High-quality Steel Building Construction Services At Competitive Price
With SIMEX Bangladesh, you will find a one-stop solution for all of your steel building requirements. If you are looking for Temporary or Permanent Steel Building Construction Services, SIMEX can help. This means we provide our customers with comprehensive support from start to finish. As a steel building construction company, we have years of experience with steel building erection projects as well as a variety of other metal building construction projects.

Are you looking for steel buildings at a discount to use for your business, extra storage space, a workshop, or a garage? Look no further than SIMEX. The steel buildings we build and ship are used by hundreds of businesses, homeowners, government departments, and organizations around the world. As a result, we often have an excess inventory of high-quality, ready-made metal buildings available for clearance sales.
00

+

Our Running Projects
Our Recent Steel Construction Project
SIMEX Bangladesh provides complete prefabricated building services, from the concrete foundation to the erection of your new steel building. With our assistance, you will be able to design, customize, and erect a steel building that will meet all of your requirements. You can count on us to achieve the highest quality construction on your project, settling for nothing less than the best! Listed below are some of our steel building projects from the past few years.
00

%

Satisfied Clients Rate

Our Expertise On Steel Building
SIMEX Bangladesh specializes in general contracting, manufacturing, fabrication, and construction of industrial, commercial, and industry-specific steel buildings. Providing complete design-build services and erecting pre-engineered metal buildings is what sets us apart from our competitors. As one of the nation's largest, most experienced manufacturers of custom metal building systems, SIMEX Bangladesh has led the industry in technology, design flexibility, longevity, and quality steel buildings for more than three-quarters of a century. There is nothing like SIMEX which is fully customized, energy-efficient, and environmentally friendly. Our Authorized Builder Network allows us to service customers throughout Bangladesh and beyond. Get in touch with SIMEX today to discuss your next custom steel building.
What Makes SIMEX Different To Ensure Perfect Steel Building Construction Services?
SIMEX focuses on innovation, adding value, and reducing client costs. Our mission at SIMEX is to enable a revolution in building engineering through innovations in design, sourcing, production, erection, and after-sales services. Quality, hard work, and, most of all, values are what we believe in. Our core values are at the heart of our company and way of doing business.
Discipline
Our mission is to know our products and services, keep our promises, remain on schedule, look presentable, stay current with the industry, and do our best every day to serve our customers.
Trust
A company's success is greatly dependent on its ability to establish and maintain relationships of trust with its clients. Every day, we must demonstrate to our customers that we are not only experts in our field but also ethical, honest, and 100% transparent.
Honesty
When you deal with SIMEX, you can rest assured that you will get honest value for an honest price, recommendations, transactions, and service. You will never find us lying, cheating, stealing, misleading, misinforming, or mispricing.
Community Involvement
As a business, we believe that we have a greater responsibility to our communities than simply doing business. It is one way we express our appreciation and support for our community that we are involved with local civic, cultural, and charitable organizations.
On-time Delivery
With the dedicated sales team, customer service team, and highly skilled erection engineers, SIMEX's service is always prompt, and any issues are addressed within the shortest time possible, ensuring no disruptions to the project schedule.
Common FAQ's About Steel Building Construction Services
Depending on the building's location, type, and size, each steel building erection project is different. Because of the various variables involved, estimating the time it takes to erect a steel building can be difficult. It will be easier and quicker to erect a smaller steel building, but it will require a larger team and more person-hours to erect a larger one. Please call us for a more accurate estimate and more information on our services.
Steel frame buildings can be constructed using various techniques depending on the project. Most steel structures are built using a technique called skeleton frames. Using vertical steel columns and horizontal beams, skeleton frames create a framework for the building. This provides steel frame buildings with an incredibly strong frame, making them a great option for a variety of building types.
Without an understanding of the whole project, it cannot be easy to provide an accurate price estimate. The price will vary depending on the location, size, material, and man-hours needed for the project. Please call us if you would like a more accurate price estimate and to learn more about our services.
Our team offers a wide variety of steel-framed building types. We have experience erecting small steel storage buildings and large steel aircraft hangars for everything. We will be able to provide you with the exact building that fits your needs. Get in touch with us to determine what type of steel building will work best for you.