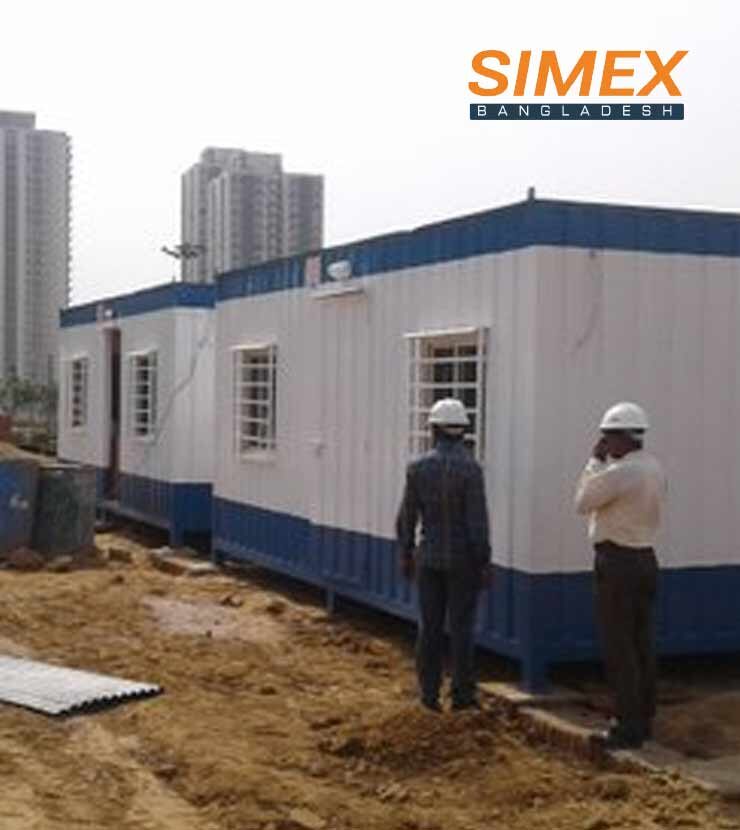 Shipping Container Overview
SIMEX offers a wide range of used shipping containers made with high-quality mild steel. Besides supplying, we also build houses, stores, schools, offices, restaurants, portable toilets, and other structures as per the client's requirement with containers. Most Shipping containers in Bangladesh come in 10 feet, 20 feet, or 40 feet. But if our clients want any customization, our people can go their place and make containers ready to install as per their preference. They are made with water-resistant material, which makes these containers water-tight.

Here in SIMEX, we provide Sale, Rental, and Credit offers for shipping containers so that clients get them from us without instant payment. Our containers will give you a comfortable workspace or dwelling. Also, construction companies, event managers, or other organizations can make portable washrooms with these containers.
00

+

Our Running Projects
The popularity of using shipping containers in the construction sector is increasing. In Bangladesh, containers are used for making houses, offices, restaurants, toilets, and bathrooms. If you want to buy one then you are in the right place. We supply shipping containers all over the world in time at an affordable price.
00

%

Satisfied Clients Rate

Shipping Container Features
SIMEX is one of the leading construction companies and recognized shipping container suppliers in Bangladesh. For a different types of construction purposes, we provide full-featured Shipping containers. Our containers are –
Durable and Water-tight

Weather-proof and comfortable

Easy to modify and install according to construction needs

Portable, can be relocated

Possible to send in any location

Weather-proof and comfortable
Do you want more specified details about Shipping Containers? Contact us at +880 173 333 1033, and we will answer your every query because customers' are our first priority. Let's make your dream project plans together!
Specifications Of Most Commonly Used Shipping Containers:
Shipping Containers are available in a variety of sizes in SIMEX. Anyone can order for any size, and color can be customized too.
For 10 feet Shipping Containers,
Length – 2991 mm
Width – 2435 mm
Height – 2591 mm
For 20 feet Shipping Containers,
Length – 6058 mm
Width – 2435 mm
Height – 2591 mm
For 40 feet Shipping Containers,
Length – 12,192 mm
Width – 2435 mm
Height – 2591 mm
Services That SIMEX Provides:
SIMEX mainly gives Sale, Rental, and Credit offers for supplying Shipping Containers to customers. You can fully purchase or take containers as rent if you want from us. 
Sale
Our company sells various construction materials which can be used in building different structures. If customers need to install Shipping containers to their place to make a house, office, toilet, and store, we can provide them with any amount of containers. Why should you purchase products from us? Because we offer high-quality steel-made products which meet international standards. Also, we have a team of skillful people who will go to your construction place and help install Shipping Containers.
Rental
SIMEX serves hardy and different-sized containers for various kinds of construction purposes. We will rent you Shipping containers with a transportation facility to use them as long as you want for your projects. SIMEX rents useable Shipping Containers as portable workshops or washrooms in many events. The essential equipment needed for installing containers will also go to your place as a rental.
Credit Offer
This one is for our lucky clients who want to purchase Shipping Containers with bank credit. We can give them 30-90 days credit offers to get enough time and make payment later.
Why Choose SIMEX
SIMEX is one of the leading construction companies in Bangladesh. People from different countries, including Japan, China, India, Korea, work with us. We secure our clients with guaranteed construction elements because we are a certified steel supplier. Here we offer all sorts of Shipping Containers for various construction projects to help people build and decorate their own container house or office or restroom.
In SIMEX, we focus on giving weather-resistant Shipping Containers to your place with first-class support. We offer construction items at a very competitive price and deliver products on time. Also, you don't need to struggle with installations of Shipping Container because we send our people to assist your workers in your construction projects. So, you can entirely rely on us and allow us to serve your necessities.
Common FAQ's About Shipping Container
Shipping containers come in many different sizes, but the most common sizes are 20-ft and 40-ft. Also, our delivered shipping containers are listed below (length x height):: 8 ft x 8′ 6″ 10 ft x 8′ 6″ 20 ft x 8′ 6″ 30 ft x 8′ 6″ 40 ft x 8′ 6″ 9.6″ (Hi-Cube) For customizable options, sizes depend on clients' requirements. Feel free to contact us and share your preferable shipping container sizes.
The cost of a container varies in different sizes. For detailed information, please contact us or email us at [email protected]
For placing your order feel free to contact us at +8801733331033 or +8801733331032. Also, you can email us at [email protected] by mentioning the size of your containers, delivery location, and pricing statement.