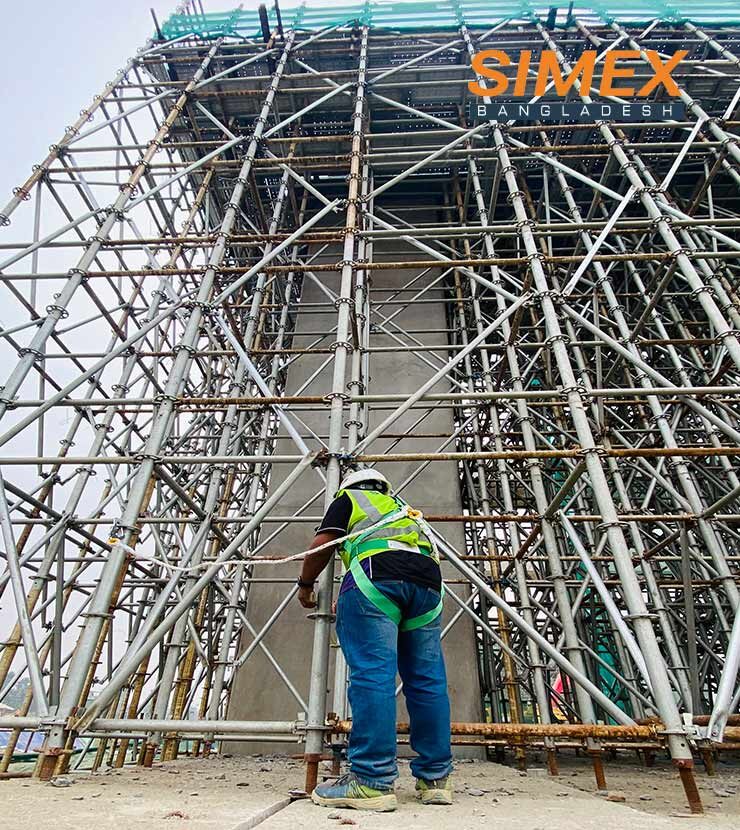 Scaffolding With SIMEX
SIMEX is one of the largest, high-quality, and reasonable steel Scaffolding products and its equipment supplier company in Bangladesh. Now we are offering not only selling scaffolding items but also we have rental and buy-back options available. We are always concerned about our clients. If you want to pay later then we accept a bank guarantee. We have our own transport facilities with door to door delivery system. We are working on lots of megaprojects with local and international clients. SIMEX is govt authorized company and serve since 2005.

We serve all types of scaffolding solutions and give the highest priority to our client's preferences. We believe, Scaffolding brings the future for the construction company in a smarter way. Do you want remarkable and affordable scaffolding services for your next construction project? Please submit your inquiry today.
00

+

Our Running Projects
We sell all types of scaffolding items including, Cuplock, Ringlock, Shoring, and related scaffold components. We pride ourselves on quality, consistency, available stock, and customer service. Our scaffold all items are in stock.
00

%

Satisfied Clients Rate

Features And Specification Of Our Scaffolding Items
The construction company deals with various challenges and difficulties to ensure the best outcome properly. Suppose you need to set up a scaffolding structure but deal with a company that supplies scaffolding parts (couplers, ladders, or catwalk). After that, your estimated finishing construction time will delay. 
Dealing with a professional construction company help you to grow higher.

Explore final and time-consuming scaffolding services. 

A skilled and experienced company has the power to add extraordinary value. 
Let's start today to explore the future of construction! Hire us as your professional scaffolding service provider.
Which Do We Offer On Scaffolding?
SIMEX serves you effectively and uniquely to get the best industrial scaffolding services. We handle and maintain all scaffolding systems, including erection, design, inspection with the necessary equipment. With us, you explore sale, rental, and buy-back scaffolding services in one place.
If you want to get perfect solutions in one place, then SIMEX is the best choice. Our main focus is to ensure the safety of the workers during construction. Our scaffolding accessories are world-class, and BUET Certified. Do you want mind-blowing scaffolding and equipment services? Contact Us. 
1. Sale Service
We value high-quality steel and scaffolding equipment. Along with coupler, brace, and popular frame scaffolding, you get a complete package of scaffold equipment and accessories. We can fulfill all your desired scaffolding services and solutions. 
The most important question that may arise in your mind that, why do you rely on us? Well, the answer is, SIMEX has experience in scaffolding structural accessories by building one for construction purposes. We have the flawless engineer and expertise to help you select the perfect product. Do you want to start from today? Feel free to contact us. 
2. Rental Service
SIMEX offers one of the largest and influential rental services with complete scaffolding accessories. Whenever you rent steel scaffolds from us, you know your products will arrive in time and perfectly. 
Quick delivery, time management, and quality is our main concern.

We also update our inventory to sell used equipment at very favorable discounts. 

Scaffolding rental and delivery, erection, and dismantling services help you run the project smoothly.
When good and high-quality scaffolding equipment comes from renting scaffolds suppliers, it helps to provide high security and quality. With us, users can explore scaffold rental services for home and construction projects (industrial, government, and university clients). Contact us to know more about rental equipment available for sale. 
3. Buy-back Service
Buy-back Scaffolding service is the most effective and unique program for the construction company. By accepting these programs, users benefited most. At the end of the construction project, they have no burden settling the scaffolding equipment. 
If you want to use scaffolding material for longer than 6 months or more with a buy-back program, then you are in the right place. 

By ensuring the buy-back agreement, you are obliged to maintain the buy-back amount and time in advance. 

We offer the buy-back service, where we supply Scaffolding and equipment. And you get a satisfying percentage of the original price when your project is done. Isn't that sound great? 
Why Choose SIMEX Bangladesh?
We are full-service scaffolding and access solutions company. Our core mission is to ensure the safety challenges in the scaffold industry with new and innovative products. 
You get ultimate scaffold solutions on your project from the estimation of design to implementation.

As a renowned construction company, we strictly maintain product quality, fair prices, and high skilled engineers. 

Our sales, installation, and management teams give you the confidence that your project is done perfectly. 
Our experts and professional crew are dedicated to providing first-class scaffolding and equipment in Bangladesh. We love challenges and meet them more smartly. With us, you get complete scaffolding solutions in one place. Let's hand in hand to create the new era of construction revolution together!
Give us a call or email or visit us to discuss more. Let us provide you with a scaffold, access, or safety solution for your next scaffold project. 
Common FAQ's About Scaffolding
The cost of scaffolding depends on your project size and recommendations. Please get in touch with us. We also serve no obligations quotation.
Call us or Email us mentioning on our website page (simex.com.bd). If you want to visit our office for a face-to-face discussion, you are most welcome.
We offer a complete package of scaffolding services (design to installation). Also, we offer sale, rental, and buyback services.
The rental agreement depends on companies policies and your project's timeline. You can contact us for further information.
Yes, we provide working drawings to estimate the project idea we supply.