Container Office Building Will Be Your Corporate Game Changer In 2022
Container offices building – also referred to as mobile office containers are on the rise in Bangladesh, due to their versatility, low cost, and sustainability as office spaces. They are made from portable steel CONNEX Boxes. So, they also called the Conex office. we also can use it as shipping container house building.
Within the last decade, more and more shipping containers have been used in Bangladesh to import and export trade materials overseas. But eventually, these containers are no longer needed for shipping – and that's why they're great to recycle for living and working places. Shipping containers are extremely sturdy, durable, weather-resistant metal structures, and they're also portable and cost-effective.
Additionally, they can be constructed as either temporary or permanent spaces. They give businesses the option to build workspace cheaply, as well as implement a portable, flexible, and scalable architectural design.
Container office buildings are constructed from re-purposed shipping containers. They are ground-level, instead of above-ground – and extremely weather-resistant, since they're made of steel. Since they are re-purposed, they don't offer some of the finishing options many mobile office suppliers offer right off the bat. But the good news is that they allow for a great deal of creativity and customization, and you can design your shipping container office to fit your business needs.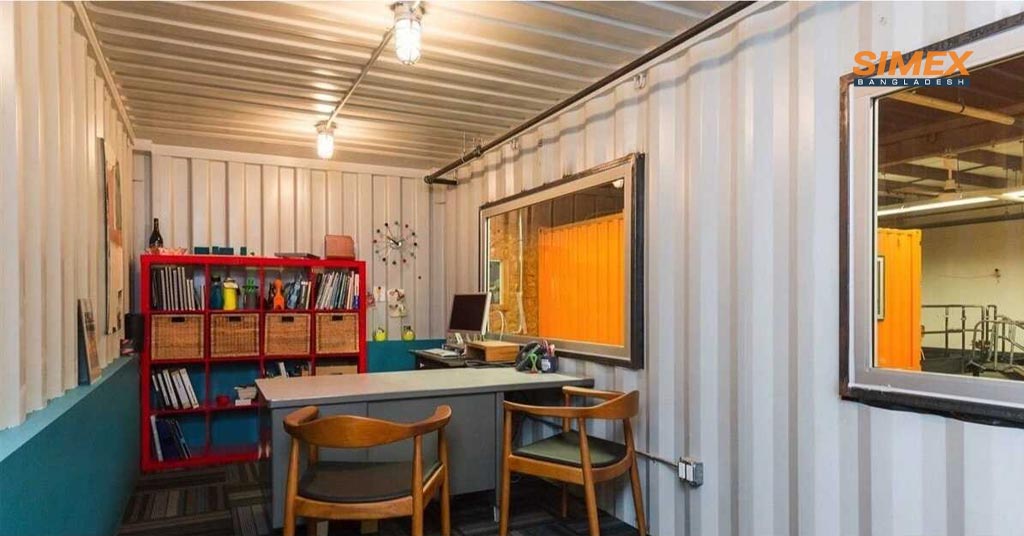 Sizes
Most container offices come in standardized 10-foot, 20-foot, and 40-foot lengths. However, customers can opt for a customized sized container, depending on the way they plan to build their container office.
Layouts
There are several different options for layouts or floor plans when deciding on a container office. This makes it easy for businesses in a variety of industries to customize their container office to fit their space needs.
Open layout
Dual office
Store and Work
Workplace layout
Process of Building a Container Office
The insulation of a shipping container office can make or break the entire build.
Choosing containers is one of the most important stages of container office build.
Make reference to zoning and building permits.
While planning isn't necessarily the most exciting part of the build, it is definitely one of the most important.
Setting a Realistic Budget
With self-builders in particular, site preparation is often an overlooked step because it doesn't feel productive and is something that can be done, as and when it's needed.
Rust Treatment and Prevention
How Long Does A Container Office Building Last?
The lifespan of a container office varies depending largely on the environment in which it is located. Generally speaking, though, a home built from used containers should last about 15 years without any major maintenance, and one built using new containers should last about 25 years.
Benefits of A Container Office
There are dozens of advantages to choosing a shipping container office for your business. Here are just some of the ways they've been helping companies worldwide:
Cost-effective
Environmentally friendly
Space efficiency
Customizable
Portability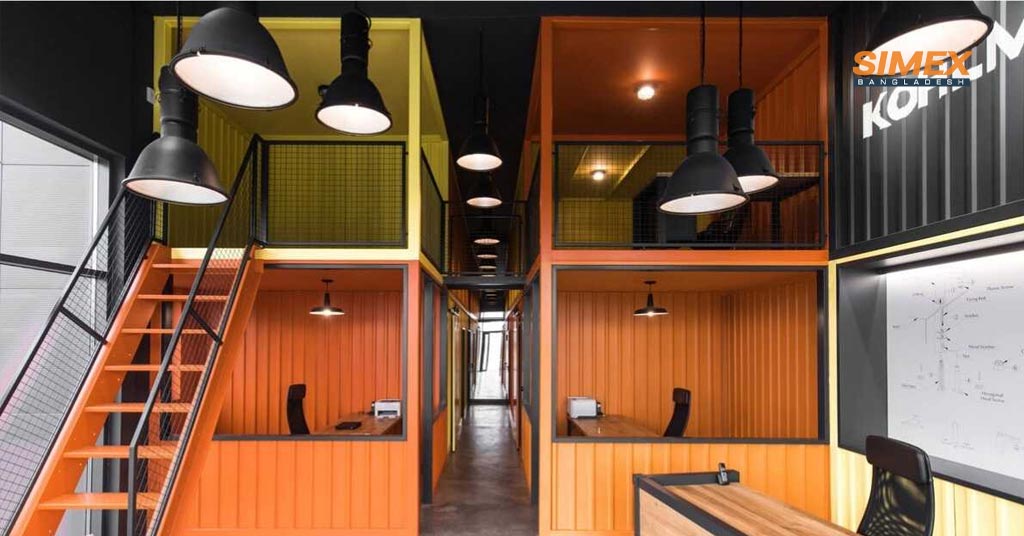 Container Office Building Companies in Bangladesh
In Bangladesh, there are many companies that build container offices. SIMEX Bangladesh is one of the best shipping container supplier in Bangladesh.
SIMEX Bangladesh is one of the fastest-growing companies in Bangladesh. Our products are used in diverse applications from general projects. All of our products meet the most stringent requirements as per international standards when it comes to reliability and quality.
SIMEX Bangladesh provides a wide range of construction, industrial, commercial, road, and bridge supplies. We specialize in Steel Pipe, Plate, Sheet pile, Heavy Equipment Sales/Rental, Prefabricated Vertical Drain, Rail Line Ballast, Stone Chips (Dubai, China), and General Purchase.
Our honorable clients are – Bangladesh Economic Zone Authority, Roads and Highway Development of Bangladesh, Local Government Engineering Department Of Bangladesh, Bangladesh Oil Development Board, Italian Thai Development (Dhaka Metro Rail Project), Sinohydro (Dhaka Metro Rail Project), Xingweng Feng Trade Co. & Ltd., Wellstone Co & Ltd and many more.
Services of SIMEX Bangladesh in Building Container Office
If you have an expanding business that requires more space to remain productive, we can help. SIMEX Bangladesh's container office solutions range from basic home office conversions to multi-storied developments that will help you and your business flourish. SIMEX Bangladesh Spaces also offers a range of shipping container classroom spaces that can be used to train staff or provide overflow space when needed.
SIMEX Bangladesh spaces offer a full turn-key solution for our bespoke container conversions. Our hugely experienced in-office design and engineering team will work with you to create the office space that you have in mind, having already designed and manufactured shipping container office conversions for your need.
Contact Us
Contact us today to build your container office, or inquire about what we can do for you. We have dedicated customer service representatives who can answer all of your questions. We're always happy to provide you with our services and information over the phone or schedule a time to discuss your project face to face.
———-
Sales: +8801733331033
Engineering: +8801733331032
销售老板: +8801733331031
Mail Us:
Head of Sales: [email protected]
Head of Engineering: [email protected]