Do Glass And Aluminum Fabrication Work With SIMEX Bangladesh
Glass fabrication work is making glass into tailor-made products to fix at any given location. Toughened glass gives the best safety measures when it comes to accidental breakage by scattering like crystals. Toughened glass always eco-friendly when it brakes and the broken pieces can be recycled and can be processed for glass making. Toughened glass plays a very important role in the field of glass work as being a major component and the flexibility of toughened glass makes it very easy for the glass fabricators to brink any design in the book. Toughened glass is one of the most advanced inventions in the field of infrastructure.
Glass Fabrication Work Process
Melting & Refining
Float Bath
Coating (for making reflective glasses)
Annealing
Inspection
Cutting to Order
Glass fabrication Work Advantages
Energy efficiency
Strong enough to withstand harsh weather elements
Flexibility with transparency or translucency
Aesthetic benefits
Aluminum Fabrication Work
Aluminum fabrication is the process of shaping aluminum into a finished product, such as a solar panel part or an outdoor enclosure. Fabrication of aluminum spans a wide field of processes, including welding, stamping, bending, extruding, and shearing, just to name a few.
Aluminum Fabrication Techniques
Extrusion
Drawing
Forming
Casting
Forging
Machining
Water Jet Cutting
MIG and TIG Welding
Adhesive bonding
Advantages of Aluminum in Fabrication
Aluminum is a popular material for its unique combination of properties. At a third the weight of stainless steel, it's a lightweight metal with a higher strength-to-weight ratio. Aluminum is also an easy metal to work with thanks to its comparative softness, corrosion resistance, and recyclability. Its non-toxicity has made it a popular choice for food preparation machinery, and its reflective and non-combustive properties have also cemented its place in lighting.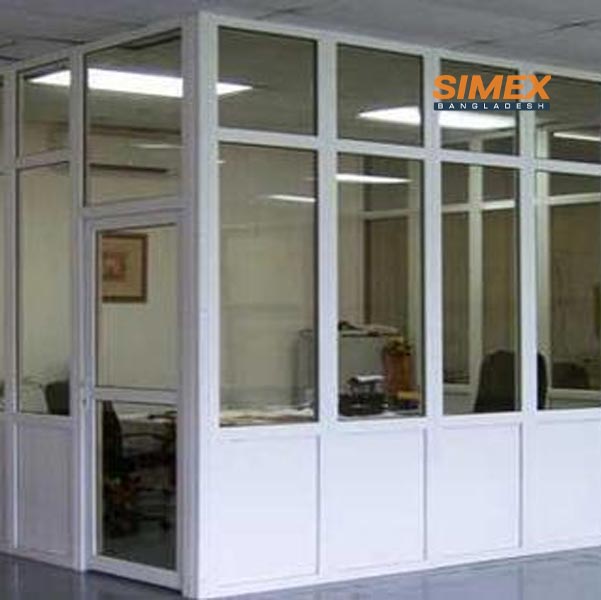 Glass and Aluminum Fabrication Work Companies in Bangladesh
In Bangladesh, there are many companies that do the work of glass and aluminum fabrication. SIMEX Bangladesh is one of them.
SIMEX Bangladesh is one of the fastest-growing companies in Bangladesh. Our products are used in diverse applications from general projects. All of our products meet the most stringent requirements as per international standards when it comes to reliability and quality.
SIMEX Bangladesh provides a wide range of construction, industrial, commercial, road, and bridge supplies. We specialize in Steel Pipe, Plate, Sheet pile, Heavy Equipment Sales/Rental, Prefabricated Vertical Drain, Rail Line Ballast, Stone Chips (Dubai, China), and General Purchase.
Our honorable clients are – Bangladesh Economic Zone Authority, Roads and Highway Development of Bangladesh, Local Government Engineering Department Of Bangladesh, Bangladesh Oil Development Board, Italian Thai Development (Dhaka Metro Rail Project), Sinohydro (Dhaka Metro Rail Project), Xingweng Feng Trade Co. & Ltd., Wellstone Co & Ltd and many more.
Services of SIMEX Bangladesh in Glass and Aluminum Fabrication Work
SIMEX Bangladesh is one of the best aluminum, glass, and stainless steel fabrication companies based in Bangladesh with a great engineering experience.
We provide a premium service customized completely to our client requirements. By offering assistance at every step of the contract we ensure to use our expertise to design, assess, and manufacture the right, door, or feature for you are it at your home or the office. We ensure that the manufacturing process takes the least possible time to meet urgent requirements all while using state-of-the-art equipment and working with industry-leading brands for raw materials.
Contact Us
Contact us today or river excavation, or inquire about what we can do for you. We have dedicated customer service representatives who can answer all of your questions. We're always happy to provide you with our services and information over the phone or schedule a time to discuss your project face to face.