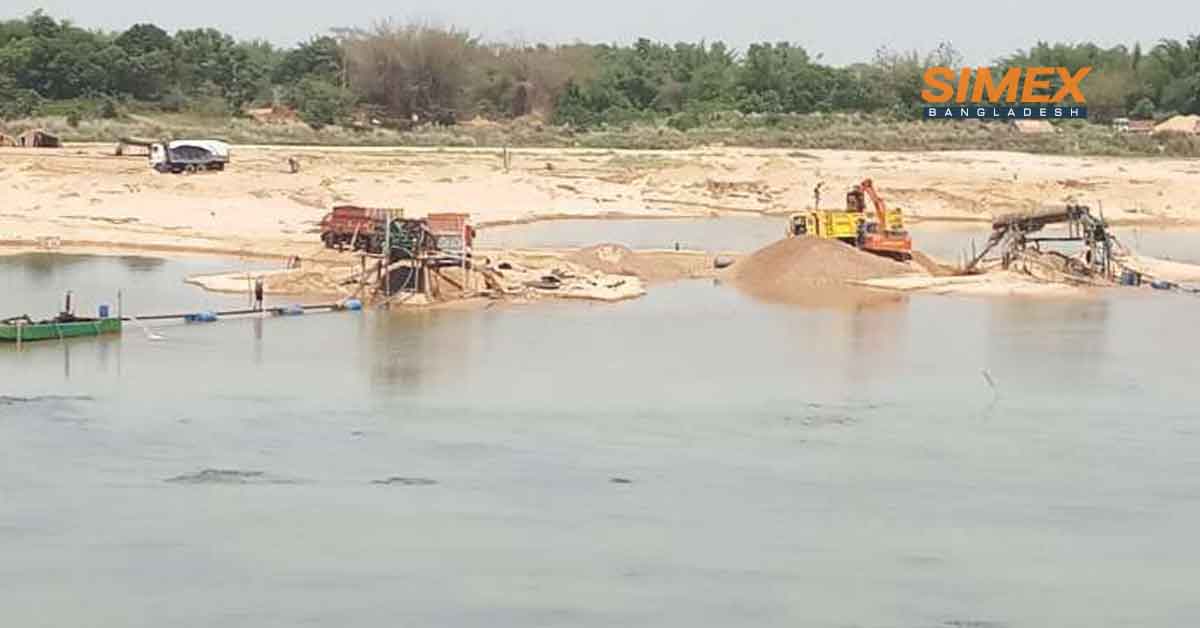 River Excavation Is Now Easier With SIMEX Bangladesh
Rivers have a direct role not only in culture but also in the life and livelihood of our people, movement and communication, agriculture and industry, occupation, trade and commerce, formation, and expansion. That river-carrying life system is on the verge of destruction today. This is due to river filling, occupation, and pollution. If the river is liberated and the navigability is restored by dredging or excavation, the riverine life system will be saved from destruction.
Many works in rivers involve excavating stream beds and banks. Such works include stabilizing stream beds, protecting and stabilizing stream banks, diverting streams, creating channels to drain land and alleviate floods, deepening stream holes to increase the capacity of water off-takes, extracting sand and gravel, and works associated with developing infrastructures, such as bridges and pipelines.
Before independence, the length of waterways in Bangladesh was 24,000 kilometers. At present, the waterway is covered with silt and sand and is at least four thousand kilometers long. Only one-fourth of this waterway is navigable in the dry season. To protect the navigability of the river, it is necessary to dredge or excavate 60-70 lakh cubic meters of silt-sand per year. These dredges are done in special areas of the river, which has no effect on the navigability of the whole river. The silt, sand, and clay that fill the river have different uses.
Excavating can severely degrade or destroy ecosystems in rivers and wetlands so the precautionary principle should be followed. Excavating should not be allowed if it is likely to cause significant environmental harm. If the works will result in substantial benefits and minimal harm to the waterway and surrounding environment, excavating the bed and banks may be acceptable. However, the appropriate safeguards must be taken.
River Excavation Companies in Bangladesh
In Bangladesh, there are many river excavation companies. SIMEX Bangladesh is one of them.
SIMEX Bangladesh is one of the fastest-growing companies in Bangladesh. Our products are used in diverse applications from general projects. All of our products meet the most stringent requirements as per international standards when it comes to reliability and quality.
SIMEX Bangladesh provides a wide range of construction, industrial, commercial, road, and bridge supplies. We specialize in Steel Pipe, Plate, Sheet pile, Heavy Equipment Sales/Rental, Prefabricated Vertical Drain, Rail Line Ballast, Stone Chips (Dubai, China), and General Purchase.
Our honorable clients are – Bangladesh Economic Zone Authority, Roads and Highway Development of Bangladesh, Local Government Engineering Department Of Bangladesh, Bangladesh Oil Development Board, Italian Thai Development (Dhaka Metro Rail Project), Sinohydro (Dhaka Metro Rail Project), Xingweng Feng Trade Co. & Ltd., Wellstone Co & Ltd and many more.
Services of SIMEX Bangladesh in River Excavation
SIMEX Bangladesh has provided its clients with outstanding excavating by focusing on building great relationships. SIMEX Bangladesh was built on the foundation that taking care of the customer is the key to future work and success. People make the difference at SIMEX Bangladesh and it is the unified focus on core values that translates to building successful relationships with owners and general contractors.
SIMEX Bangladesh's extremely talented crews are experienced in a wide variety of tasks and projects. It is this versatility and skill that allows us to tackle complex projects with confidence, often finishing ahead of schedule and under budget.
Contact Us
Contact us today or river excavation, or inquire about what we can do for you. We have dedicated customer service representatives who can answer all of your questions. We're always happy to provide you with our services and information over the phone or schedule a time to discuss your project face to face.