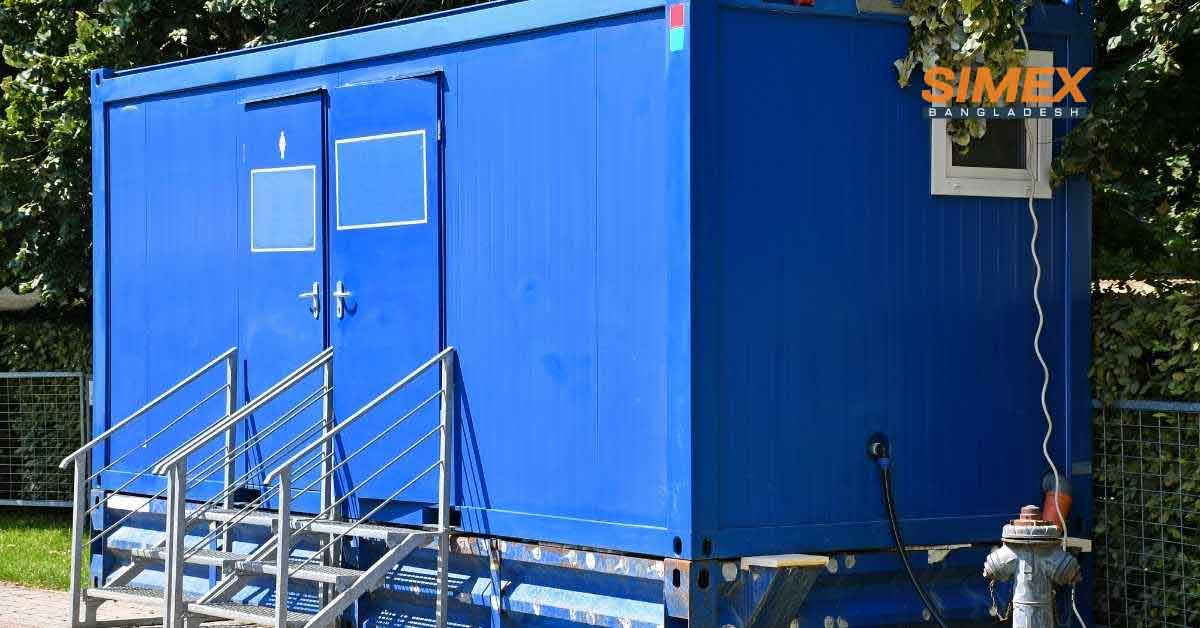 Shipping Container Toilet and Bathroom Sale in Bangladesh
Shipping containers are used to build tons of commercial structures today; including shipping container toilet, container bathroom, Container Office Building, restaurants and many other infrastructure. Since they are built with high-grade, weather-resistant, extremely versatile steel, shipping containers are perfect to repurpose as a bathroom and toilet building for outdoor needs.
A shipping container bathroom or shipping container toilet is a commercial building constructed using a repurposed shipping container. They are modified off-site by a supplier and come equipped with restroom essentials like plumbing and running water, climate control, ventilation, and a variety of other amenities of your choosing. In this sense, they can be customized to function the same as any indoor bathroom, which delivers a great deal of hygiene and comfort than alternatives such as port-a-potties. Shipping container bathrooms and toilets are:
Weather-proof and durable
Convenient, turn-key solutions
Portable and relocatable
Deliverable to your location
Pre-equipped and easy to install
More hygienic, comfortable than port-a-potties
Sizes of Shipping Container Toilet and Container Bathroom
The common sizes of shipping container toilets and bathroom blocks are:
10ft shipping container measures:
3,029mm long – 2,440mm wide and 2,590 high
20ft shipping container measures:
6,060mm long – 2,440mm wide and 2,590 high
40ft shipping container measures:
12,180mm long – 2,440mm wide and 2,590 high
Common Uses of Shipping Container Bathrooms and Portable Container Toilet
Shipping container bathrooms are commonly used for outdoor commercial purposes. They can be extremely useful for community organizers, non-profits, public event managers, and others who need to accommodate groups of people who will congregate outdoors. Some common uses for container bathrooms include:
Construction sites
Outdoor events, festivals, and concerts
Outdoor parks and campsites
City centers
Disaster relief
Industrial and infrastructure facilities
Power plants and refineries
Ideal Features of Container Bathrooms and Container Toilet
Here are some ideal features that you can add as modifications to your container bathrooms and toilets:
Water-proof, slip-resistant floors
Drains
Toilets or urinals
Built-in stalls
Sinks and running water
Hand dryers
Showers
Sliding windows (with or without security bars)
Air conditioning and heat
Electricity
Water heater (if shower included)
Odor-control ventilation system
Vinyl or tiled flooring
Insulation
Shelving, storage, or closets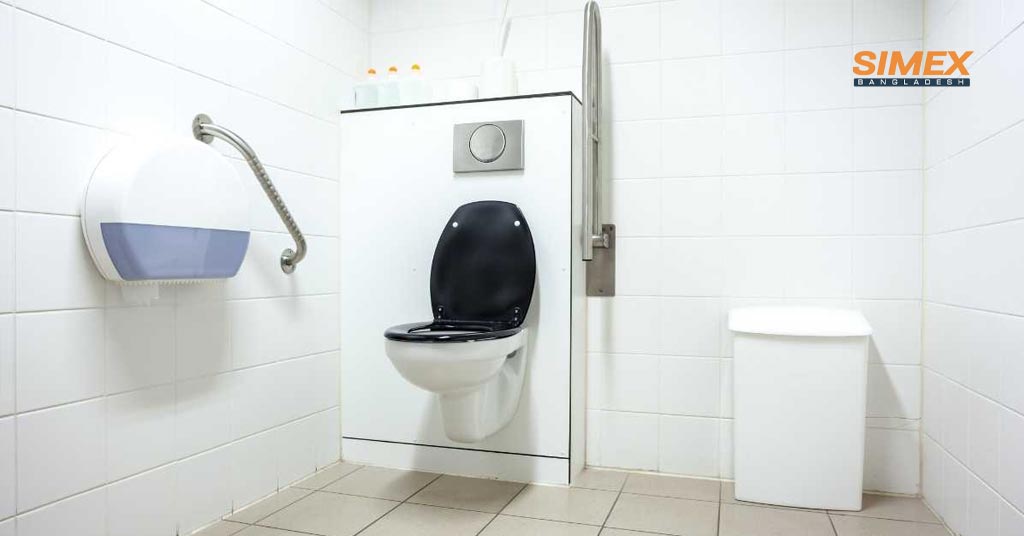 Container Bathrooms and Toilets Building Suppliers Companies in Bangladesh
In Bangladesh, there are many companies that build container bathrooms and toilets. SIMEX Bangladesh is one of them and one of the best shipping container supplier in Bangladesh.
SIMEX Bangladesh is one of the fastest-growing companies in Bangladesh. Our products are used in diverse applications from general projects. All of our products meet the most stringent requirements as per international standards when it comes to reliability and quality.
SIMEX Bangladesh provides a wide range of construction, industrial, commercial, road, and bridge supplies. We specialize in Steel Pipe, Plate, Sheet pile, Heavy Equipment Sales/Rental, Prefabricated Vertical Drain, Rail Line Ballast, Stone Chips (Dubai, China), and General Purchase.
Our honorable clients are – Bangladesh Economic Zone Authority, Roads and Highway Development of Bangladesh, Local Government Engineering Department Of Bangladesh, Bangladesh Oil Development Board, Italian Thai Development (Dhaka Metro Rail Project), Sinohydro (Dhaka Metro Rail Project), Xingweng Feng Trade Co. & Ltd., Wellstone Co & Ltd and many more.
Services of SIMEX Bangladesh in Building Container Bathrooms and container toilet
SIMEX Bangladesh's Engineers have the experience and knowledge to get your shipping container bathrooms and toilets engineered with efficiency. Whether you want something industrial and modern or a traditional building with a green twist, shipping containers can be the material of choice for your next bathrooms and toilets build.
Start your planning process with SIMEX Bangladesh! As expert shipping container bathrooms and toilets builders, we can help you from initial design to create a fully functional bathroom and toilet.
Contact Us
Contact us today to build your container bathrooms and toilets, or inquire about what we can do for you. We have dedicated customer service representatives who can answer all of your questions. We're always happy to provide you with our services and information over the phone or schedule a time to discuss your project face to face.
———-
Sales: +8801733331033
Engineering: +8801733331032
销售老板: +8801733331031
Mail Us:
Head of Sales: [email protected]
Head of Engineering: [email protected]