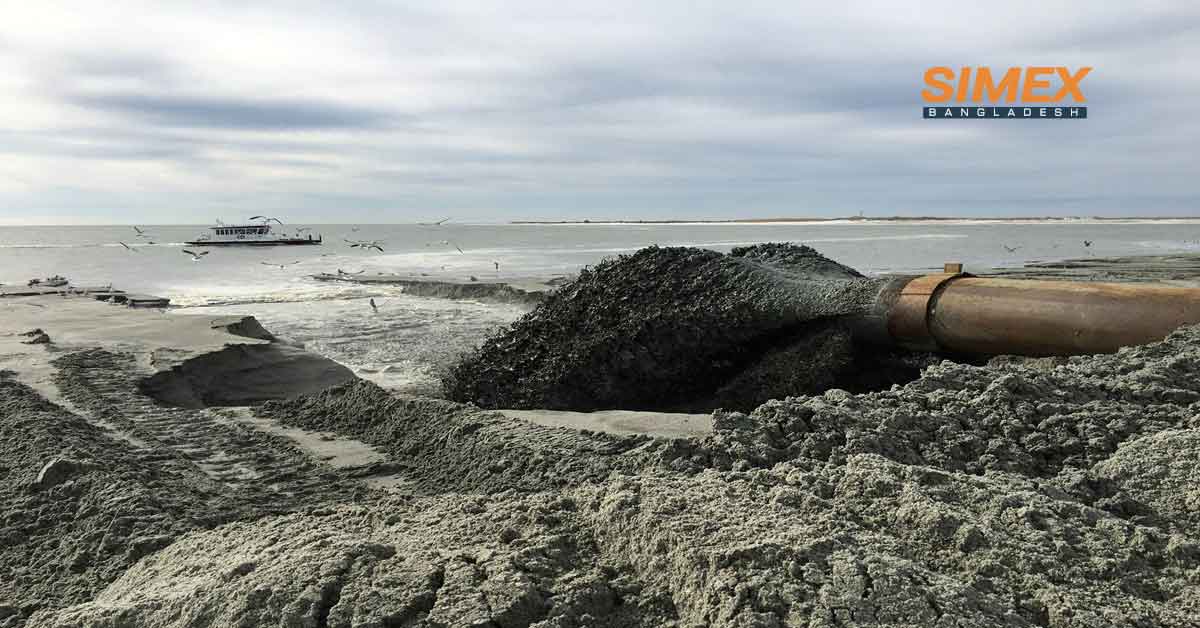 SIMEX Bangladesh Is Good At Dredging
A dredge is defined as an apparatus used for an excavation activity that is carried out at least partially or fully submerged underwater, with the purpose of gathering up bottom sediments and disposing of them at a different location.
Dredging, as a process, is used to remove the deposits percolated underwater for the purpose of clearing the water pathway for ships to pass; to create adequate space to construct important bridges, dykes, and dams and to weed out silt, intoxicants, and pollutants from the bottom of the water.
The dredging process mainly involves carrying out excavation, of either naturally deposited sediments or man-made debris such as rocks, bottom sediments, construction debris, and refuse, and plant or animal matter on the bottom of either shallow seawater or freshwaters. In general terms, dredging implies digging up the gathered sediments from the seabed and disposing of them at some other site.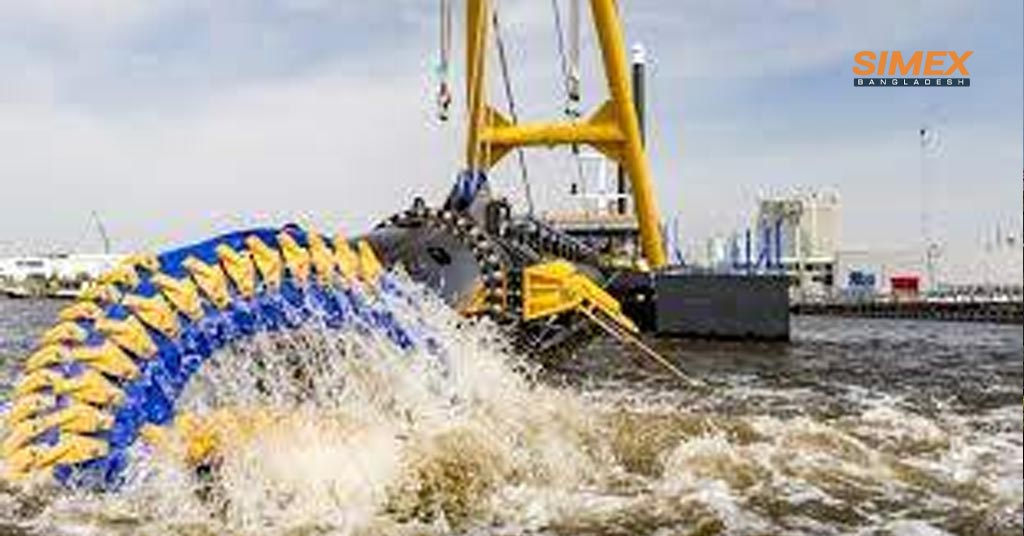 Types of Dredging
Plain-Suction
Cutter-Suction
Auger-Suction
Jet-Lift
Uses of Dredging
Dredging is used for a number of purposes such as:
Waterway Maintenance
Create waterways
Excavation
Reclamation
Increasing Waterway Depth
Wildlife Preservation and ecosystem maintenance
Reconfiguring for Larger Ships
Shore Replenishment
Gathering Construction Materials
Trash Removal
Mining for Precious Metals
Pond and Lagoon Cleaning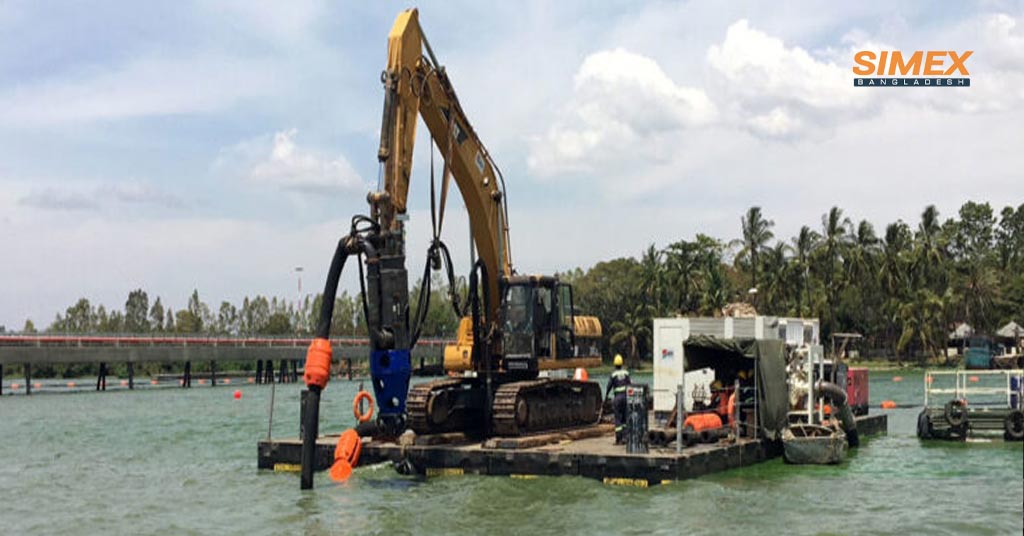 Type of Dredging Methods
Mechanical Dredging
Hydraulic Dredging
Application of Dredging
Construction Dredging
Environmental Dredging
Mining Dredging
Navigational Dredging
Recreational Dredging
Restoration Dredging
Benefits of Dredging
Widening and Deepening
Waterway Project Preparation
Land Reclamation Projects
Environmental Remediation
Cleanup Applications
Preserving Aquatic Life
General Pollutant Removal
Remediation of Eutrophied Water Bodies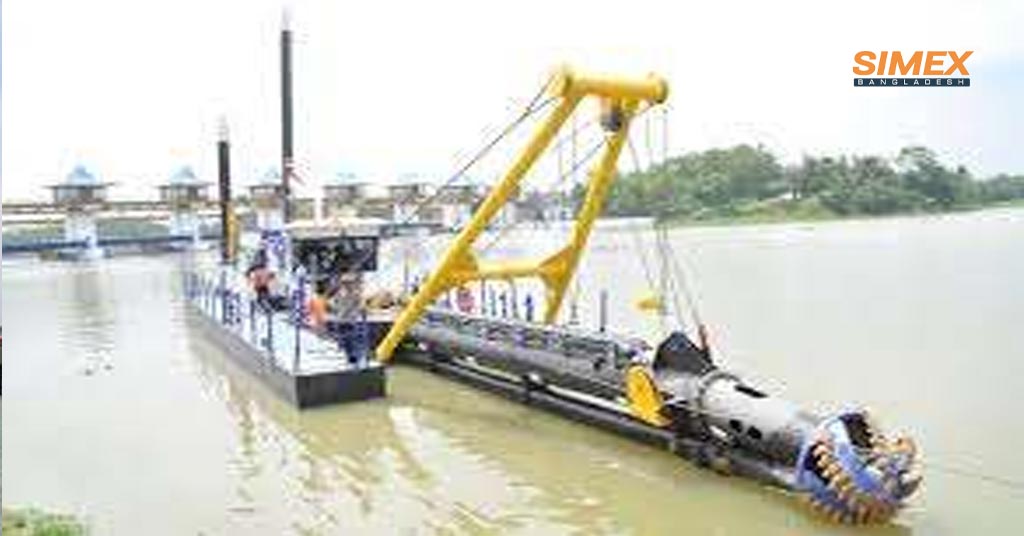 Dredging Companies in Bangladesh
In Bangladesh, there are many dredging companies. SIMEX Bangladesh is one of them.
We have been successfully delivering projects to the clients including construction, transport, and main roads, bridge, flyover, over bridge, Rail through long-serving key Company personnel.
Our honorable clients are – Bangladesh Economic Zone Authority, Roads and Highway Development of Bangladesh, Local Government Engineering Department Of Bangladesh, Bangladesh Water Development Board, Italian Thai Development (Dhaka Metro Rail Project), Sinohydro (Dhaka Metro Rail Project), Xingweng Feng Trade Co. & Ltd., Wellstone Co & Ltd and many more.
SIMEX Bangladesh in Dredging Process
SIMEX Bangladesh based supplier of quality-built cutter suction dredges. SIMEX Bangladesh brand name has been known countrywide for durable, capable, and versatile dredges.
SIMEX Bangladesh is one of a wave of river dredging companies who befits from river dredging programs, earth filling works, excavation works as taken by several Bangladesh Government agencies i.e.  Bangladesh Water Development Board (BWDB), Bangladesh Inland Water Transport Authority (BIWTA), Bangladesh Agricultural Development Corporation (BADC), Bangladesh Power Development Board (BPDB), etc.
We operate the most technologically advanced fleet, including the world's first dual-fuel dredging vessels. Over the past few years, we have executed major marine engineering infrastructure works such as the development of new ports, waterways, airports, artificial islands, residential and recreational areas, industrial areas, roads, and bridges, on all continents.
SIMEX Bangladesh is counted amongst the top recognized names engaged in offering to dredge and landfilling services in Bangladesh. These services are applicable for testing of soil, maintaining the earth level for construction through excavation or filling of earth.
The expertise of its team members provides its clients with the best quality services within the time frame in an efficient manner. In order to execute services, its team comprises qualified engineers that stringently check the entire process on-site. These services are based on advanced technology, past technical experience, and the expertise of its professionals.
Contact us
Need to dredge on your project with the best quality materials? Contact us and speak to one of our construction experts, we're always happy to provide you with our services and information over the phone or schedule a time to discuss your project face to face.