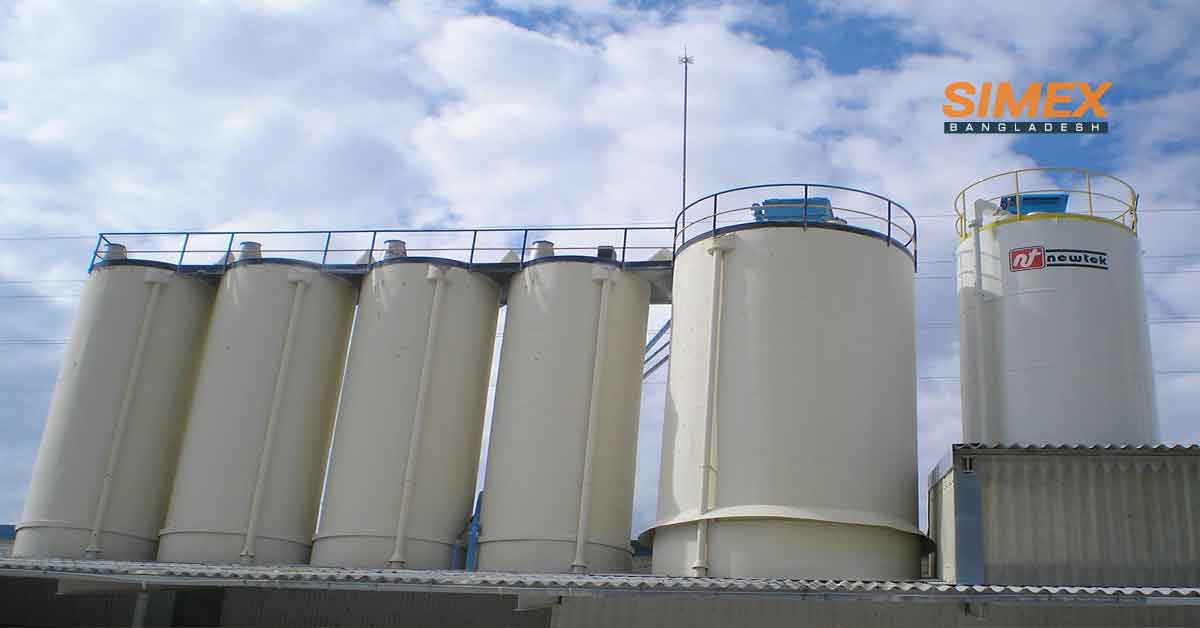 SIMEX Bangladesh's Raw Material Silo Keeps Your Product Fresh And Safe
A raw material silo is a structure for storing raw materials. Raw material silos are used in agriculture to store grain or fermented feed known as silage. Raw material silos are commonly used for the storage of raw materials like grain, coal, cement, carbon black, woodchips, food products, and sawdust.
Features of Raw Material Silo
(1) These silos are made of steel plates which can come in any capacity.
(2) Adding an aerator for long-term storage.
(3) Based on experiences, the diameter, the size of the cylindrical part, the angle of the conical part, and other dimensions are designed according to the types of raw materials.
(4) It prevents the formation of a bridge or a rat hole.
(5) Since the load cell is adopted, the automatic control can be precisely performed to take in and out materials.
Types of Raw Material Silo
Tower Silos
Bunker Silos
Bag Silos
Metal Silos
Bins
Cement storage silos
Sand and salt silos
Fabric silos
Forage harvesting
The Key Points of Storing the Raw Materials in Raw Materials Silos
Water content control
Mildew resistance and sterilization
Storage in steel silos
Raw Material Silos advantages:
The use of raw material silos presents several advantages:
They need less area to store the same amount of material than if it were stored in a horizontal warehouse.
Products are stored in optimal conditions.
Its cost is lower than that of other storage systems.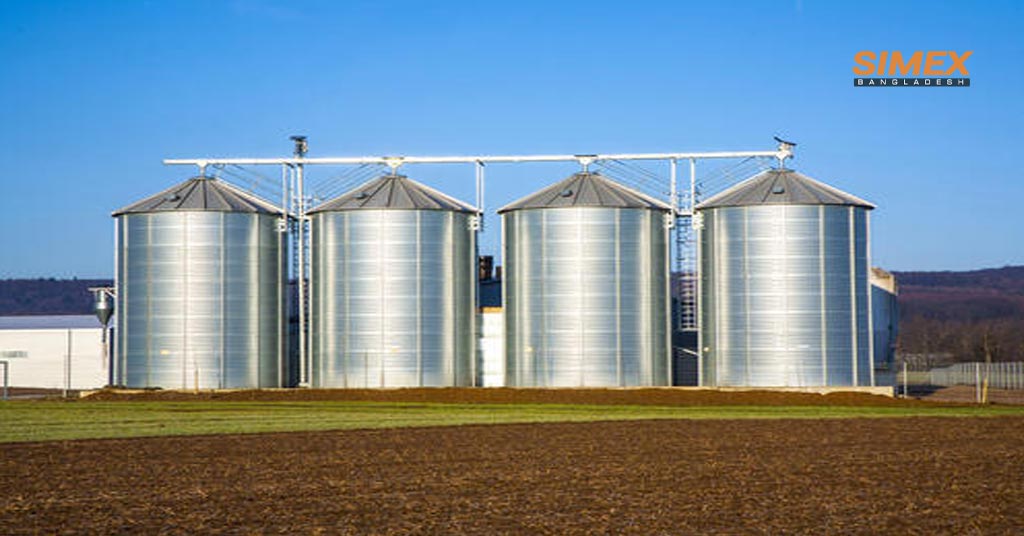 Raw Material Silo Companies in Bangladesh
In Bangladesh, there are at least 20 companies that built raw material silos. SIMEX Bangladesh is one of them.
SIMEX Bangladesh provides a wide range of construction, industrial, commercial, road, and bridge supplies. We specialize in Steel Pipe, Plate, Sheet pile, Heavy Equipment Sales/Rental, Prefabricated Vertical Drain, Rail Line Ballast, Stone Chips (Dubai, China), and General Purchase. Our own brick manufacturing plant and Concrete plant are always ready to meet the client's requirements.
We have been successfully delivering projects to the clients including raw material silos, transport and main roads, bridge, flyover, over bridge, rail through long-serving key Company personnel.
Our honorable clients are – Bangladesh Economic Zone Authority, Roads and Highway Development of Bangladesh, Local Government Engineering Department Of Bangladesh, Bangladesh Water Development Board, Italian Thai Development (Dhaka Metro Rail Project), Sinohydro (Dhaka Metro Rail Project), Xingweng Feng Trade Co. & Ltd., Wellstone Co & Ltd and many more.
SIMEX Bangladesh's Services of Raw Material Silo
SIMEX Bangladesh is bracketed with renowned Manufacturers, Traders, and Suppliers of raw material Silos. Made in accordance with the international quality management system, our silos are safe, user-friendly, low maintenance, and high performance.
SIMEX Bangladesh offers the latest technology within the industries. Our engineering and technical expertise, combined with our commitment to customer satisfaction, places us as a front runner in this growing market.
Raw material silos from SIMEX Bangladesh are highly suitable for storing raw materials. For products like grains, foods, cement, chalk, and fly ash, it is essential that they stay dry and thus do not harden.
Contact Us
Think about building a raw material silo with the best quality lighting materials? Contact us and speak to one of our construction experts, we're always happy to provide you with our services and information over the phone or schedule a time to discuss your project face to face.