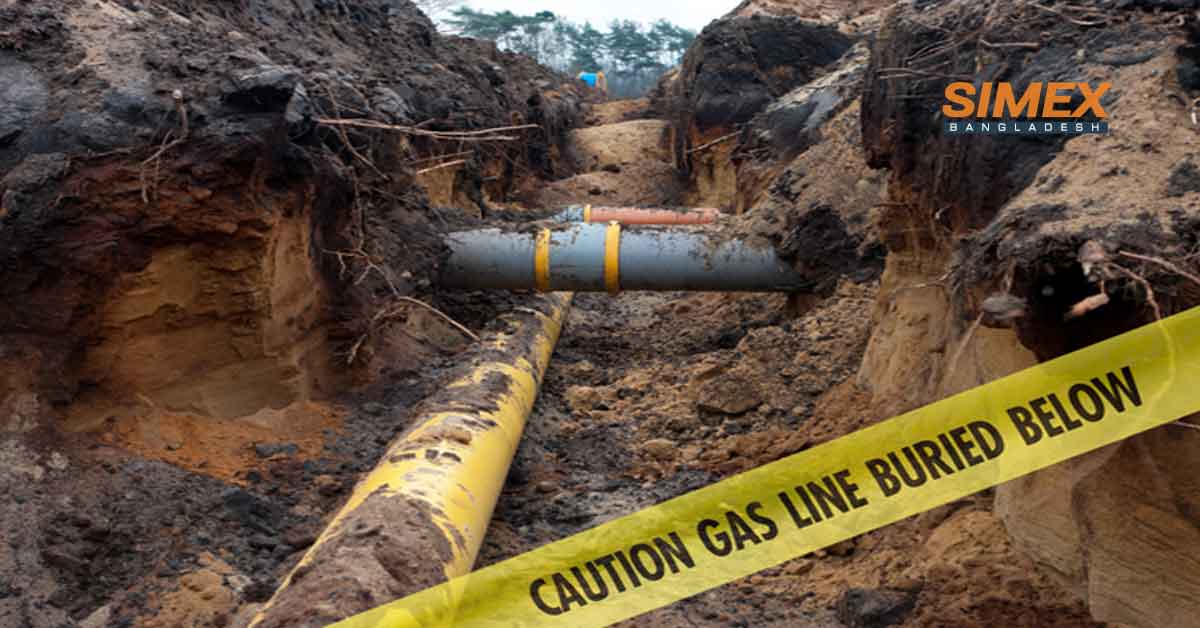 Underground Gas Line Installation Company In Bangladesh
An underground gas line means a pipe or hose connecting a gas appliance through the underground to the main supply of natural gas for the apartment, office, or building.
The pipe used to carry gasoline in a vehicle from the fuel tank to the engine. A pipeline used to transport natural gas. It can be hooked up to your natural gas line or be used with refillable propane tanks.
Underground Gas Line Depth
Underground gas line to be buried with a continuous tracer wire from riser to riser terminating above finished grade.
The actual depth of the underground gas line is-
24 inches under driveways and parking areas
15 inches under non-traffic areas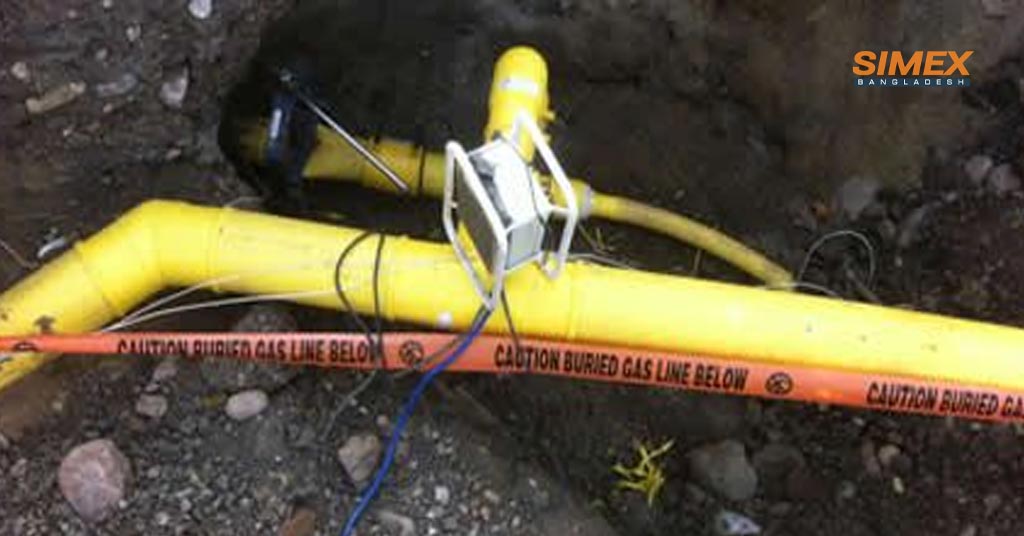 Underground Gas Line Installation
Underground gas piping shall be installed with approved clearance from other underground structures to avoid contact therewith, to allow maintenance, and to protect against damage from proximity to other structures, In addition, underground plastic piping shall be installed with approved clearance or shall be insulated from sources of heat so as to prevent the heat from impairing the serviceability of the pipe.
Underground Gas Line Installation Process
Installation, repair, and replacement of gas piping or appliances shall be performed only by a qualified installing agency or gas fitter.
Piping shall be buried to a minimum depth of 1 m covered in a manner so as to protect the piping from physical damage. It shall be protected from physical damage when it passes through flower beds, shrub beds, and other such cultivated areas.
Underground gas piping, when installed below grade through the outer foundation or basement wall of a building, shall be either encased in a protective sleeve or protected by an approved device or method. The piping or sleeve shall be sealed at the foundation or basement wall to prevent the entry of gas or gas.
Specification for Underground Gas Line Installation
Fan Assisted Appliance
Fire Wall
Fuel Line
Gas Main or Main Extension
Gas Service
Inches of Gas Column
Input Rating
Loads Connected
Makeup Air
Mechanical Exhaust Appliance
Meter
Primary Air
Qualified Installer
Regulator
Secondary Air
Mandatory in nature
Shared Meter
Materials Needed for Installing Underground Gas Line
Supply, branch, and drop lines or risers
Sediment trap, dirt pocket, or drip leg
Pipe downstream of the meter
Piping materials
The most common gas piping are-
Black steel
Galvanized steel
Copper
Brass
CSST
Wrought steel and wrought iron pipe
Corrugated stainless steel tubing
Aluminum pipe and tubing
Plastic pipe and tubing
Connectors
Flex connectors
Three- or six-foot-long and accessible
Thread seal tape
Not in ducts
Shut-off valve
Bonding gas piping
Underground Gas Line Installation Companies in Bangladesh
In Bangladesh, there are more than 20 underground gas line installation companies. SIMEX Bangladesh is one of them.
SIMEX Bangladesh is one of the fastest-growing underground gas line installation companies in Bangladesh. Our products are used in diverse applications from general projects. All of our products meet the most stringent requirements as per international standards when it comes to reliability and quality.
SIMEX Bangladesh provides a wide range of underground gas line installation, construction, industrial, commercial, road, and bridge supplies. We specialize in Steel Pipe, Plate, Sheet pile, Heavy Equipment Sales/Rental, Prefabricated Vertical Drain, Rail Line Ballast, Stone Chips (Dubai, China), and General Purchase. Our own brick manufacturing plant and Concrete plant are always ready to meet the client's requirements.
Our honorable clients are – Bangladesh Economic Zone Authority, Roads and Highway Development of Bangladesh, Local Government Engineering Department Of Bangladesh, Bangladesh Gas Development Board, Italian Thai Development (Dhaka Metro Rail Project), Sinohydro (Dhaka Metro Rail Project), Xingweng Feng Trade Co. & Ltd., Wellstone Co & Ltd and many more.
Why Should You Use Service of SIMEX Bangladesh?
With great experience in underground gas line piping, the SIMEX Bangladesh team understands what's needed to take your project from start to completion. Our piping construction crews do this by focusing on safety, quality, and efficiency.
With a lot of experience in the underground gas line installation sector, SIMEX Bangladesh is able to help you install an underground gas line in any capacity.
Natural gas lines
Propane lines
BBQ & Grill gas connection
SIMEX Bangladesh services private homes, garages, detached shops, kilns, and businesses all over the country.
With a team of expert engineers, we take all the fuss and uncertainty out of the underground gas line installing services. Our gas line services are easy, affordable, and reliable. Whether you need an emergency repair or you are upgrading your home looking for new line installations, we can help.
Contact Us
Contact us today to begin your gas line services, or inquire about what we can do for you. We have dedicated customer service representatives who can answer all of your questions. We're always happy to provide you with our services and information over the phone or schedule a time to discuss your project face to face.