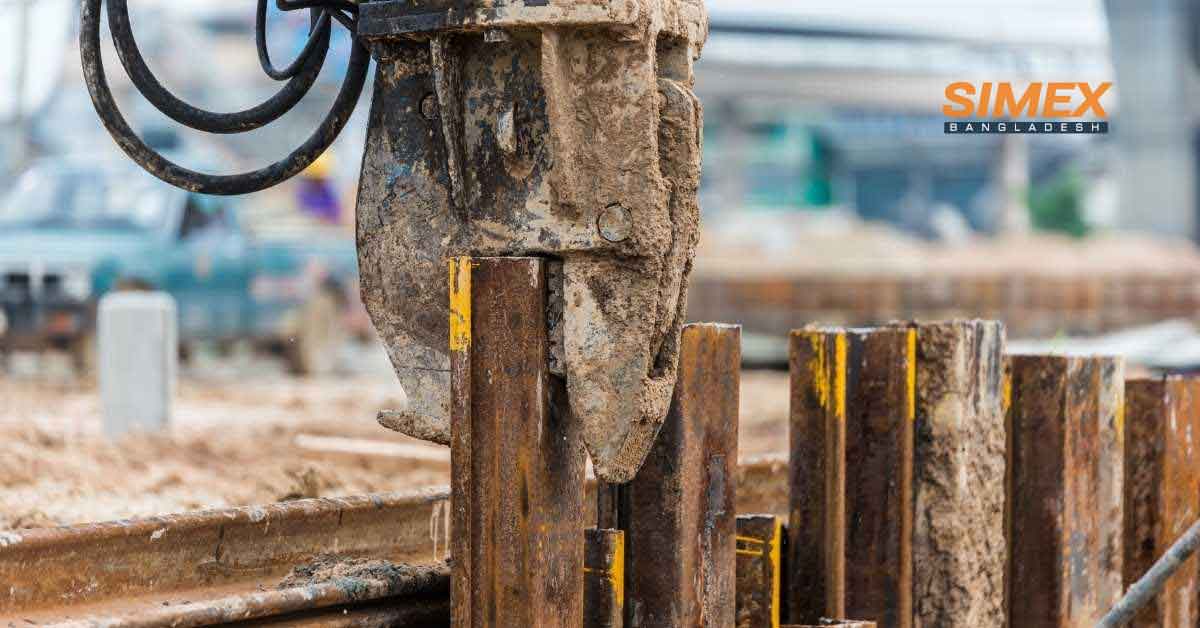 Sheet Pile Driving Is Easier With SIMEX Bangladesh In 2022
Sheet piles are sections of sheet materials with interlocking edges that are driven into the ground to provide earth retention and excavation support. Sheet pile driving are most commonly made of steel, but can also be formed of timber or reinforced concrete.
The concept of sheet piling is pretty straightforward. Wherever a wall or siding needs to be held back, steel sheets are wedged into the earth at predetermined intervals. The sheets are driven into the soil with vibratory or impact hammers. In some cases, they may be installed with hydraulic presses.
Materials of Sheet Pile
A sheet pile is making with many types of material. Such as-
Steel Sheet Piles
Timber Sheet Piles
Vinyl Sheet Piles and polymeric sheet piles
Aluminum Sheet Piles
Precast Concrete Sheet Piles
Types of Sheet Piles
In Bangladesh, there are using many types of sheet piles for construction work. Some popular types of sheet pile founding in Bangladesh are as follows –
Z type sheet pile
Hat-type sheet pile
Straight web sheet pile
Methods of Sheet Pile Installation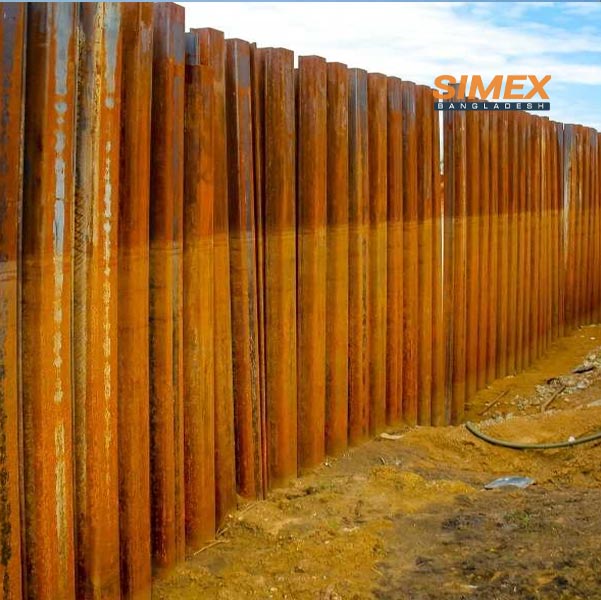 There are two basic driving methods for sheet pile installation-
Pitch and drive
Panel driving
Key Elements of Successful Sheet Pile Driving
Topographical features
Geological conditions
Use of the most appropriate type of sheet section, plus
The correct choice of driving hammer
Uses
Support excavations
Construct cofferdams
Construct seawalls and bulkheads
Create barriers to groundwater flow
Process of Sheet Pile Driving
The most common methods of installing steel sheet pile walls are
Vibrating
Impact driving
Hydraulic pushing
Jetting
Trenching
The basic installation steps are-
Arrange the sheets in sections to check if the piles will interlock correctly or not.
Hammer the first sheet to the defined depth as per the design.
Use vibratory hammers for installation, but use impact hammers if the soil is hard or dense.
Use hydraulics to push the sheets into place if vibrations are prohibited at that particular site.
After the first sheet is placed, drive the second sheet so that it interlocks with the first one.
Repeat the process until the wall is completed.
Use connector elements to maintain the integrity of the wall if it requires complex shapes.
Advantages
Sheet piles are recyclable and reusable.
Piles can come in a wide range of lengths, sizes, and steel options.
They can be used for temporary and permanent structures.
They can be installed using silent and vibration-free methods.
The work is neat, clean, and creates no spoil arising's. The supervision of work on-site can be reduced, and minimal storage space is required.
Sheet piles can provide a close-fitting joint to form an effective water seal.
They have a long life above and below water, making them advantageous for marine and coastal projects.
Caution
Always set-up a template system.
Rule of thumb: When driving long, heavy sections of Steel Sheet Piling, Crane Boom length should be twice that of the sheets one is driving.
A panel of sheet piling should be threaded and set prior to driving any sheets to grade
Align and plumb the first two sheets and drive carefully and accurately.
Drive sheets in pairs when possible placing the hammer in the center of the pair.
Some contractors recommend not driving a sheet more than 1/3 its length before driving the adjacent pile.
Never rush the Pile Foreman.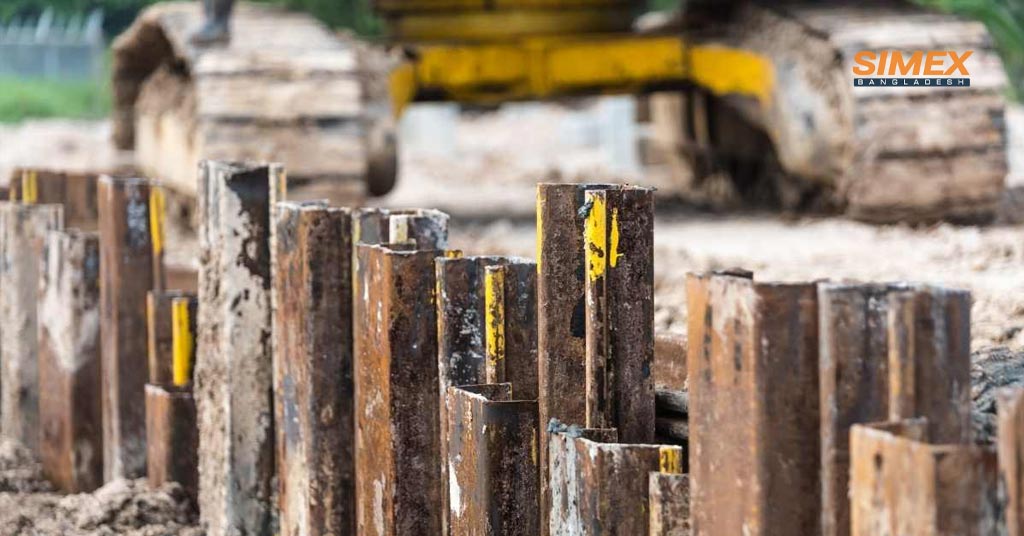 Sheet Piling Driving Company in Bangladesh
In Bangladesh, there are many companies that install sheet piling driving. SIMEX Bangladesh is one of them.
SIMEX Bangladesh is one of the fastest-growing sheet piling driving installation companies in Bangladesh. Our products are used in diverse applications from general projects. All of our products meet the most stringent requirements as per international standards when it comes to reliability and quality.
SIMEX Bangladesh provides a wide range of sheet piling driving installation, construction, industrial, commercial, road, and bridge supplies. We specialize in Steel Pipe, Plate, Sheet pile, Heavy Equipment Sales/Rental, Prefabricated Vertical Drain, Rail Line Ballast, Stone Chips (Dubai, China), and General Purchase. Our own brick manufacturing plant and Concrete plant are always ready to meet the client's requirements.
Our honorable clients are – Bangladesh Economic Zone Authority, Roads and Highway Development of Bangladesh, Local Government Engineering Department Of Bangladesh, Bangladesh Oil Development Board, Italian Thai Development (Dhaka Metro Rail Project), Sinohydro (Dhaka Metro Rail Project), Xingweng Feng Trade Co. & Ltd., Wellstone Co & Ltd and many more.
Services Offered By SIMEX Bangladesh for Sheet Pile Driving
SIMEX Bangladesh has the resources and ability to take on any sheet piling project, anywhere in Bangladesh, no matter how large or complex. Whether customers need a single bore pit or sheeting in multiple locations over a large spread, we can accommodate.
SIMEX Bangladesh has a fleet of modern, safe rigs available to perform sheet pile installations of all kinds in all environments. The in-house design allows us to customize a cost-effective solution for each project and decades of experience allow us to avoid pitfalls in design and installation.
Contact Us
Contact with your trusted Sheet Piles Supplier in Bangladesh or inquire about what we can do for you. We have dedicated customer service representatives who can answer all of your questions. We're always happy to provide you with our services and information over the phone or schedule a time to discuss your project face to face.