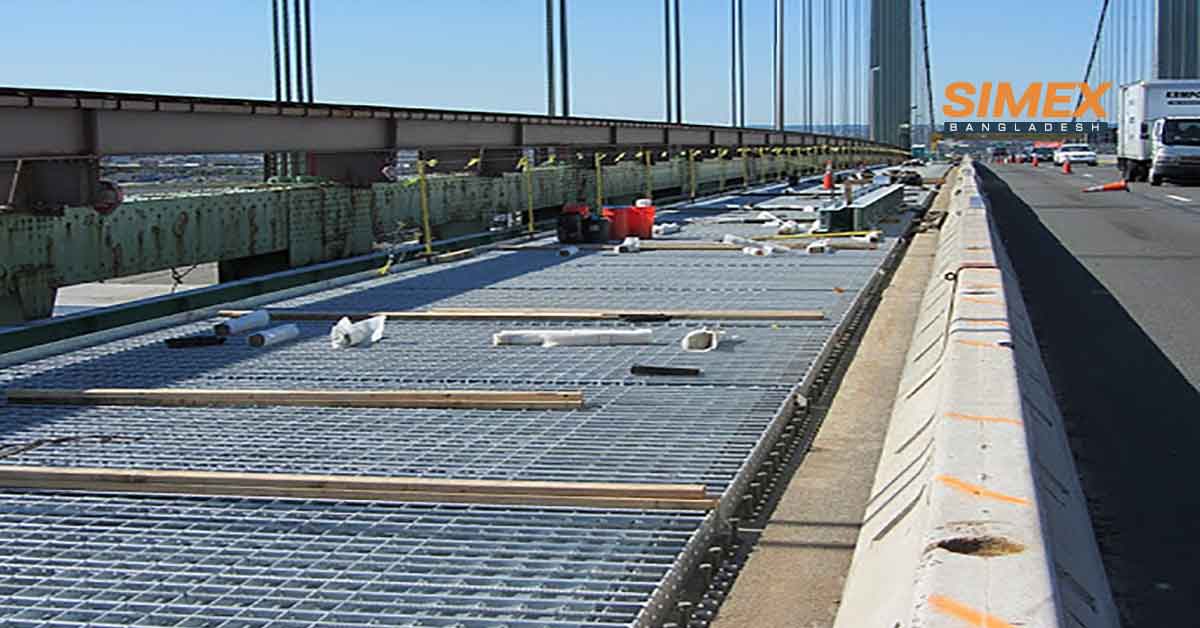 SIMEX Bangladesh Waiting To Help You In Bridge Construction In 2022
Bridge, a structure that spans horizontally between supports, whose performance is to hold vertical loads. The archetypical bridge is sort of easy—two supports holding up a beam—yet the engineering issues should be overcome during this simple type is inherent in each bridge: the supports must be strong enough to carry the structure up, and therefore the span between supports must be strong enough to hold the loads. Spans are typically created as short as possible; long spans are supported where good foundations are limited—for example, over estuaries with deep water.
The bridge industry is moving toward mechanized construction as a result of this protects labor, shortens project periods, and improves quality. This trend is obvious in several countries and involves most construction ways. Mechanized bridge construction is predicated on the use of specialized erection equipment.
Types of Bridge
Bridges by Structure
Cable-Stayed Bridges
Moveable Types
Fixed Bridges
Temporary Bridges
Moveable Bridges
Methods of Bridge Construction
Segmental Construction is gaining quality as a way of construction wherever the local terrain and/ or traffic prohibit the erection of standard falsework. Most recently constructed Bridges are designed Segmental. Segmental construction will reduce construction time, limit environmental impacts, minimize traffic disruption, improve unstable performance, and reduce maintenance price. It's a cost-effective methodology for the construction of a bridge.
This methodology may be a versatile methodology of bridge construction wherever complicated and strange geometrical shapes of dams may be made simply. In a situation when it is hard to transport a pre-fabricated component either due to size or unreachability, this method is a better selection.
Balanced Cantilever Method
This method is used for constructing bridges with a span of 50 to 250m. The bridge Constructed can either be cast-in-place or precast. Here, the segments are attached in an alternative manner at opposite ends of the cantilevers supported by piers. This is the best choice for the construction of long-span length bridges, irregular length, and cable-stayed bridges.
In this method, the bridge is constructed with the help of precast concrete components.
Span by Span Casting Method
The Cantilever construction method is joined with this method but with many benefits in the design, it is thought of as great economic and fast in construction. For long bridges and viaducts with an individual span of up to 60m, the method is feasible.
Bridge Construction Companies in Bangladesh
In Bangladesh, there are around 20 bridge construction companies. SIMEX Bangladesh is one of the best bridge construction companies in Bangladesh.
SIMEX Bangladesh provides a wide range of construction, industrial, commercial, road, and bridge supplies. We specialize in Steel Pipe, Plate, Sheet pile, Heavy Equipment Sales/Rental, Prefabricated Vertical Drain, Rail Line Ballast, Stone Chips (Dubai, China), and General Purchase. Our own brick manufacturing plant and Concrete plant are always ready to meet clients' requirements.
We have been successfully delivering projects to the clients including Transport and Main Roads, bridge, flyover, over bridge, Rail through long-serving key Company personnel.
Why Do You Need SIMEX Bangladesh for Bridge Construction?
Our company made a Project Access Bridge for Water Treatment Plant in Narayanganj. The length of the bridge is 12 meters and made of steel. The Bridge Piling Depth is 20 Meters. For making this bridge there also used Steel Pipe, H/ I Beams, Checkers Plate, etc.
Our level of success has been secured by perpetually working at and on the top of our Client's satisfaction and by having a superb diary altogether aspects of Quality, Safety, and Atmosphere.
We are continually recognized by clients, suppliers, and subcontractors as being a fair and equitable firm that delivers what we promise.  Our people work well in a team environment, with an emphasis on delivering the best for service results ensuring Clients repeatedly seek us out.
Contact Us
Do you plan to make a bridge near your river or canal etc? Contact us and speak to one of our construction experts, we're always happy to provide you with our services and information over the phone or schedule a time to discuss your project face to face.