SIMEX Bangladesh Is Good at Temporary Building Construction
A temporary building is a type of building that is used for a limited time – like, for an event or a warehouse needed to store seasonal stock for a retail shop.
Temporary buildings vary significantly in terms of design, specification, and size depending on customers' needs.
Temporary building structures are multi-purpose, portable structures that offer protection under all weather conditions. They are great alternatives to conventional structures and offer some impressive advantages that include quick delivery, portability, and low cost.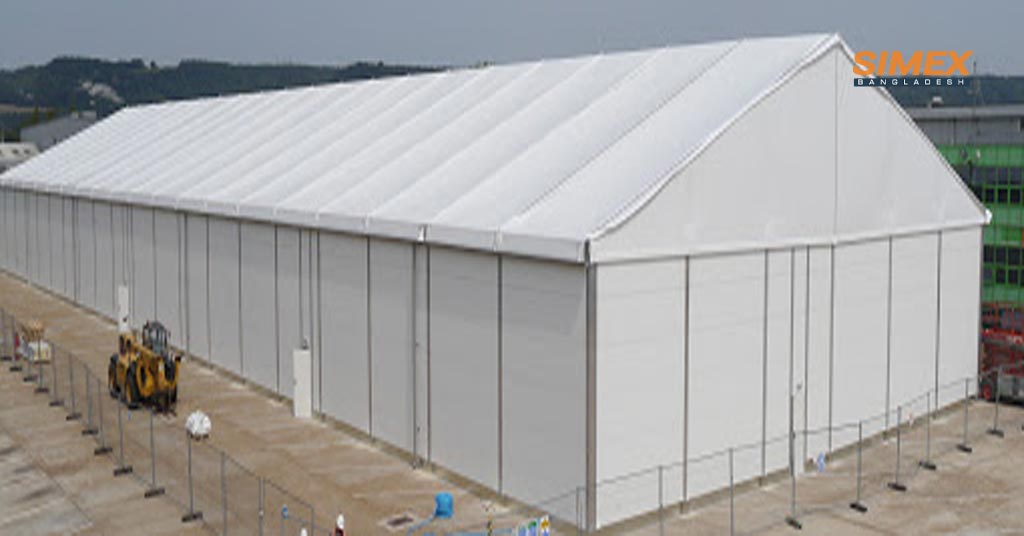 Types of Temporary Building
Temporary Building as Garages
Large-scale Greenhouses for Cultivation
Barn and Farm Storage
Boat and RV Storage
Workshops
Disaster Relief Stations
Screen Houses
Pool Enclosures
Airplane Hangars
Uses of Temporary Building
For construction site
For relocation of Commercial, Industrial or Institutional Use
For residential Sales Centre
For television, Advertisement or Motion Picture Production
For additional Public School Classroom Space
Materials Used for Temporary Buildings
There are the most common materials for constructing a temporary building are-
Wood
Bamboo
Cardboard
Rubber
Tin
3D printed recycled materials
Crates
Containers
Benefits of Temporary Buildings
There are many benefits of using temporary buildings. They are-
Quick and easy installation
Environmentally friendly and flexible designs
Large, spacious interior
Cost-benefit savings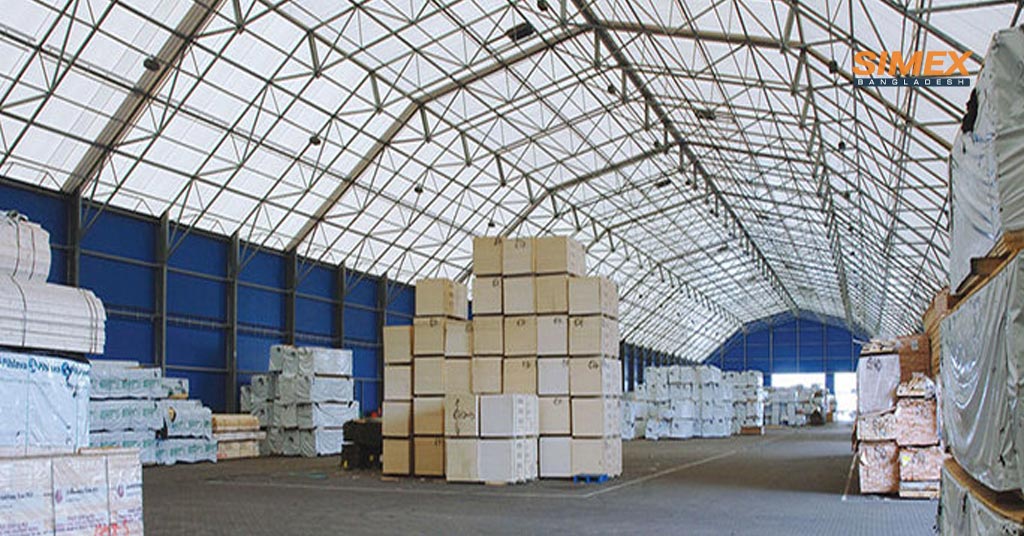 Temporary Building Construction Companies in Bangladesh
In Bangladesh, there are around 10 companies that construct temporary roads. SIMEX Bangladesh is one of them.
We have been successfully delivering projects to the clients including temporary building construction, building construction, transport, and main roads, bridge, flyover, over bridge, Rail through long-serving key Company personnel.
Our honorable clients are – Bangladesh Economic Zone Authority, Roads and Highway Development of Bangladesh, Local Government Engineering Department Of Bangladesh, Bangladesh Water Development Board, Italian Thai Development (Dhaka Metro Rail Project), Sinohydro (Dhaka Metro Rail Project), Xingweng Feng Trade Co. & Ltd., Wellstone Co & Ltd and many more.
Why Do You need SIMEX Bangladesh in Temporary Building Construction?
Constructing a temporary building is comparatively easy for us. SIMEX Bangladesh products are strong enough to support large-scale materials, cranes also. They feature built-in notches that simply connect them and supply stability and security. So many varieties of sizes are available that there's actually no limit to the number of temporary building construction configurations you can create.
SIMEX Bangladesh is unique in constructing a temporary building. It is one of the best companies in Bangladesh that designs, manufactures, and installs our own temporary buildings. That means superlative quality from start to finish – quality design, quality construction, and quality customer service.
Our temporary buildings are durable, customizable, and spacious. our quality temporary buildings give you all the freedom of on-site, expandable, low-risk semi-permanent building or storage space that's as durable and cost-effective as it is quick to install. Our peerless temporary buildings are built with experience and countless satisfied customer testimonials.
To ensure high-quality materials for all infrastructure and construction projects as well as provide the same to Government Departments and private contractors and builders, Dewan Shuvo set up SIMEX Bangladesh.
Contact Us
Do you need to construct a temporary building with the best quality lighting materials? Contact us and speak to one of our construction experts, we're always happy to provide you with our services and information over the phone or schedule a time to discuss your project face to face.