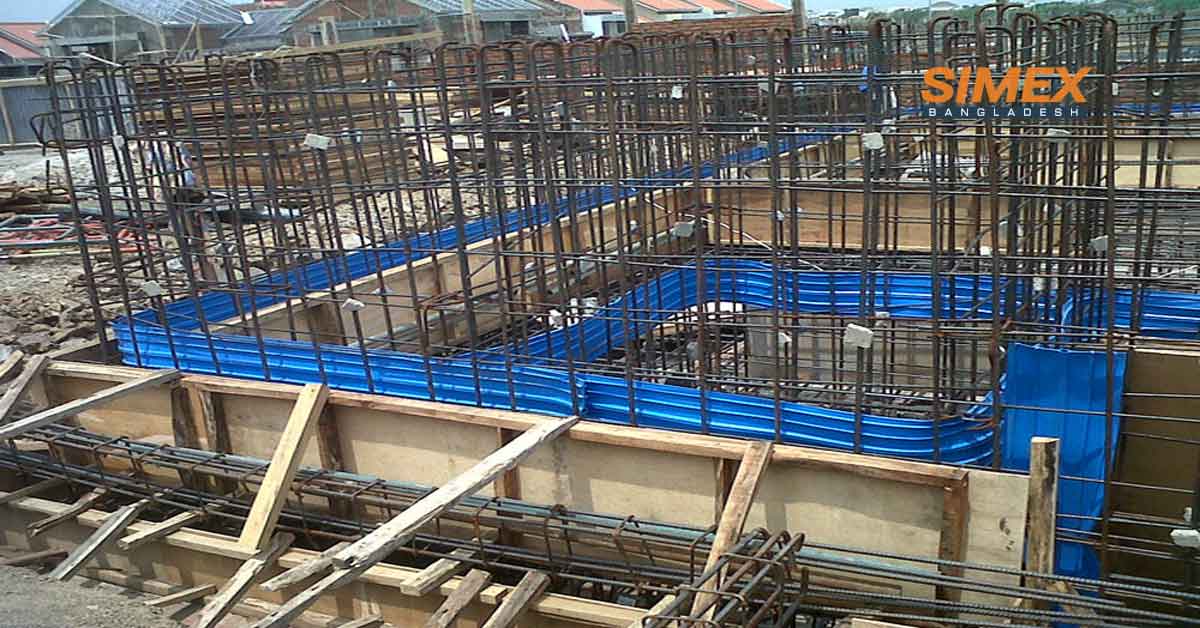 Pvc Water Stopper Installation In Bangladesh
A water stopper is a material embedded in the concrete, with the singular purpose to obstruct the passage of water through the joint. It is designed for growth or contraction joint; in the meantime, it will accommodate lateral and cross movements that create it capable to suit the moving joints.
The PVC water stopper is extruded type an elastomeric plastic material as well as high-grade PVC, special rosin, and a few chemical additives like plasticizers and stabilizers.
PVC Water stoppers are used for providing water impermeability in expansion-contraction (structure) joint seen in concrete structures exposed to high & low water pressure and for preventing vibrations and deformations that would appear in concrete blocks.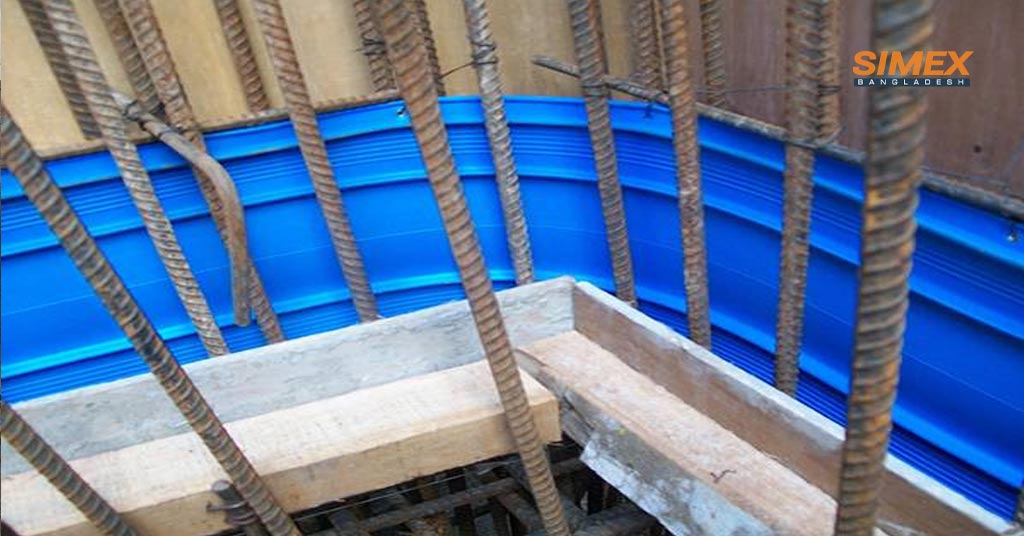 Uses of PVC Water Stopper
PVC water stoppers are for use in concrete joints subjected to hydrostatic pressure. Embedded in concrete, PVC water stoppers span the joint to form a continuous, watertight diaphragm that prevents the passage of liquid through the joint. The water stopper must be properly selected and installed to accommodate joint expansion, contraction, and other longitudinal and transverse movements. In addition to these considerations, the water stopper must also be resistant to any liquids to which the water stopper may be exposed.
There are some other uses of PVC water stopper:
Dams
Ponds
Canal lining
Water cisterns
Water refining facilities
Swimming pools
Deck
Construction tunnels
Hydroelectricity & thermal plants
Bridges
Refining facilities
Metro constructions
Power plants viaducts
Supporting walls
Flooring settled on ground & foundations
Industrial structures
Installation of PVC Water Stopper
Appropriate installation determines the performance of water stoppers in water-proofing and reduces spilling and cracking of surrounding concrete. In order to provide convenience to our customers, the guidance of water stopper installation is a list below:
Preparation:
Before installation, uncoil water stoppers (especially for those water stoppers that have shape-memories) to let it resume straight shape – that makes the water stopper easy to handle and fabricate.
Check the water stopper whether it has any defects or cracks. Replace the defective and unacceptable water stoppers.
Installation:
Place water stoppers at the appropriate position. Make sure that about a half-width of it is embedded in the concrete.
Contain about 1.5 times of clear coverage between the water stopper and surround reinforcing steel without any rock pockets and air voids.
Tie the water stopper to surrounding reinforcing steels by threading steel wire to metal eyelets, punched holes, or hot rings of water stoppers to fix the water stopper firmly. Meanwhile, make sure there is no displacement during fastening.
Pour the concrete and vibrate concrete nearby the joints (especially those under the water stopper) to enhance the contact with water stoppers.
Clean debris and dirt of concrete surface after the first pour.
Repeat the above methods for a second pour.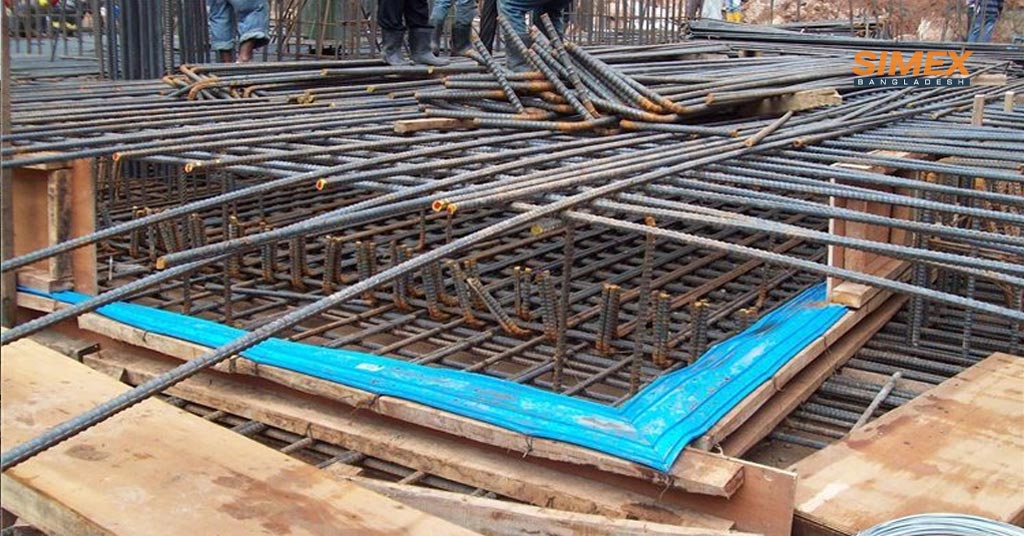 Features & Benefits of PVC Water Stopper
High tensile strength.
Superior elongation capability.
Excellent inherent elasticity and impermeability
High resistance to acids, ozone, seawater even diesel oil.
Extremely alkalis, chlorinated water, and other waterborne chemicals resistant.
Not susceptible to fatigue deterioration as with metal or rubber.
High quality meets even exceed the industrials standard.
Never discolor concrete.
No electrolytic action with surrounding metals.
Capable to withstand hydrostatic pressure.
Heat weldable in conjunction with electric splicing irons.
Withstand the expansion and contraction movement of the joints.
Capable of taking care of any deflection or displacement arising caused by temperature changing or differential settlement of the foundation.
PVC Water Stopper Installing Companies in Bangladesh
In Bangladesh, there are many PVC Water Stopper Installing companies. SIMEX Bangladesh is one of them.
We have been successfully delivering projects to the clients including construction, transport, and main roads, bridge, flyover, over bridge, Rail through long-serving key Company personnel.
Our honorable clients are – Bangladesh Economic Zone Authority, Roads and Highway Development of Bangladesh, Local Government Engineering Department of Bangladesh, Bangladesh Water Development Board, Italian Thai Development (Dhaka Metro Rail Project), Sinohydro (Dhaka Metro Rail Project), Xingweng Feng Trade Co. & Ltd., Wellstone Co & Ltd and many more.
SIMEX Bangladesh in PVC Water Stopper Installing
SIMEX Bangladesh is one of the best PVC Water Stopper manufacturers in Bangladesh. We are counted amongst the reckoned names in the industry, offering a functionally advanced range of PVC Water Stopper. We offer them in varied thickness and are functionally advanced. PVC Water Stopper are quality approve and can withstand extreme pressure and temperature. Moreover, we offer them in stipulated time.
Contact us
Need to install PVC water stoppers on your project? Contact us and speak to one of our construction experts, we're always happy to provide you with our services and information over the phone or schedule a time to discuss your project face to face.