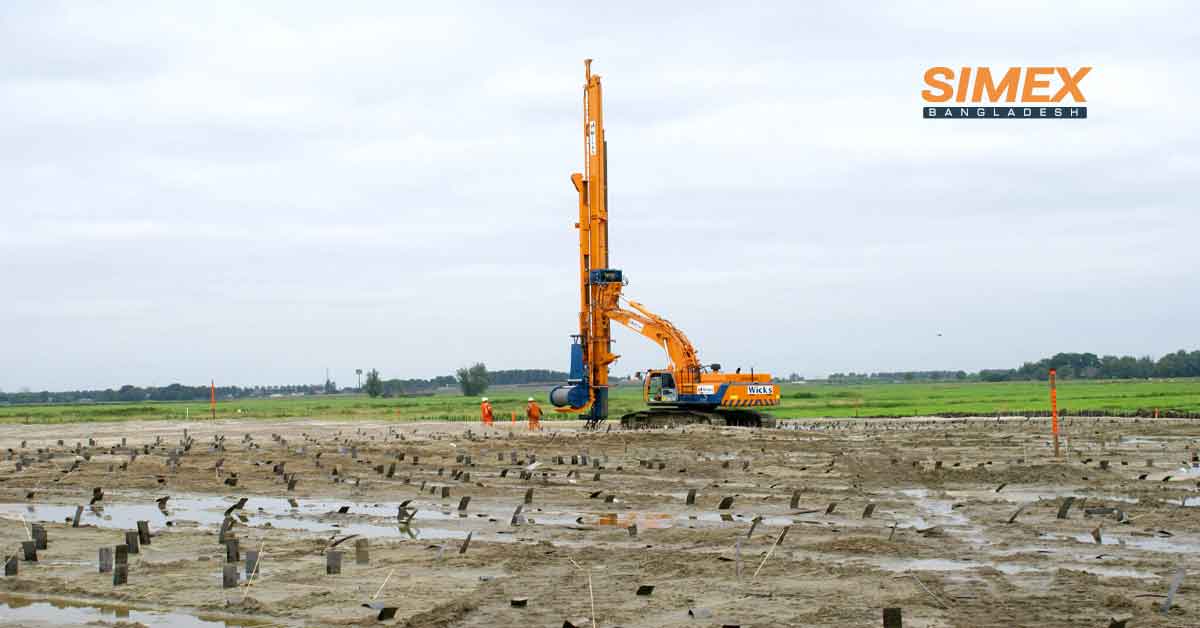 Install Prefabricated Vertical Drain With SIMEX Bangladesh
Prefabricated Vertical Drains additionally referred to as Wick Drains or band drains are prefabricated geotextile filter-wrapped plastic strips with wrought channels. These act as drainage paths to require pore water out of soft compressible soils that consolidate faster under a constant surcharge load.
Prefabricated vertical drains are used for settlement method and to increase the decline in water span. It also makes it possible to control and design for relatively strict residual settlement requirements. Prefabricated vertical drains (PVDs) or Wick drains are applied in loose, compressible, water-saturated soils and make the soil unstable.
Prefabricated vertical drain consist of a specially designed synthetic which conducts maximum water flow along the length of the drain the core is fully wrapped in a durable geotextile filter jacket that has a very high water permeability and excellent filtration properties both the core and geotextile filter jacket have high mechanics of strength and durability.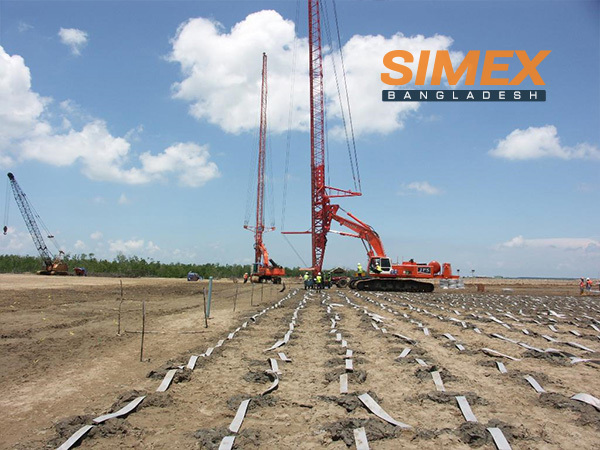 Characteristics of PVD
PVD is consisting of a plastic core covered by a synthetic geotextile "filter jacket". Two main components of PVD serve the following functions;
Core serves as a longitudinal flow path along the drain
Filter jacket allows water to pass into the core while restricting intrusion of soil particles
PVD Installation
An anchor plate is attached to the end of the PVD to achieve each installation. PVD's are installed into the ground using a hollow mandrel that houses and protects the PVD material. The mandrel is hydraulically pushed into the ground by our installation rig in accordance with the specifications established by the constructors and engineering team. Once the PVD has been driven to the correct depth and pressures the mandrel is then withdrawn back into the mast leaving the PVD in place. The rig then moves to the next predetermined installation location and continues the process.
The installation details for each PVD are verified by the operator via soil wicks industry-leading in-cabin measuring and recording technology. Once the PVD installation has been completed a new surcharge layer of loading is applied to the site. This surcharge layer combined with the PVD's accelerates the consolidation of the subsoil's so that it occurs over a period of months as opposed to a period of years. Correctly install prefabricated vertical drains significantly reduce settlement time.
QUALITY CONTROL IN INSTALLATION
Use the appropriate size of Mandrel and anchor plate to minimize soil disturbance
Use Mandrel with adequate stiffness to maintain verticality
Apply appropriate penetration rate to avoid significant bending
Check verticality during installation
QUALITY CONTROL TEST FOR PVD MATERIAL
Apparent opening size
Puncture resistance
Burst strength
Trapezoidal tear strength
Grab tensile strength
Discharge capacity (plain and triaxial)
The density of filter fabric
Advantages of Prefabricated Vertical Drain
Decrease the overall time required for completion of primary consolidation due to preloading
Decrease the amount of surcharge required to achieve the desired amount of recompression in the given time
Increase the rate of strength gain due to consolidation of soft soils when stability is of concern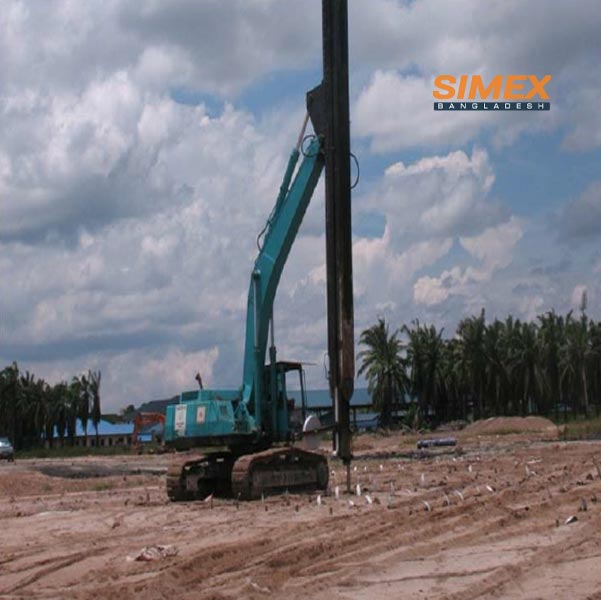 Prefabricated Vertical Drain Installation Companies in Bangladesh
In Bangladesh, there are many companies that install a prefabricated vertical drain. SIMEX Bangladesh is one of them.
We have been successfully delivering projects to the clients including prefabricated vertical drain, building construction, transport, and main roads, bridge, flyover, over bridge, Rail through long-serving key Company personnel.
Our honorable clients are – Bangladesh Economic Zone Authority, Roads and Highway Development of Bangladesh, Local Government Engineering Department Of Bangladesh, Bangladesh Water Development Board, Italian Thai Development (Dhaka Metro Rail Project), Sinohydro (Dhaka Metro Rail Project), Xingweng Feng Trade Co. & Ltd., Wellstone Co & Ltd and many more.
Services of SIMEX Bangladesh in Installing Prefabricated vertical Drain
SIMEX Bangladesh is professional manufacturers strive for supplying the solution for various kinds of Ground Improvement machine. With the worldwide Airport Projects, Seaport Projects, Link Road Projects, Railway Projects, Real Estate Building Project, Dredging Projects, Power Plant Projects rapidly development. Vertical Wick Drain is popularly applied in ground improvement projects. So, PVD Mast will be widely applied in the above projects. SIMEX Bangladesh can design the PVD Mast to encounter various kinds of soil conditions.
High quality with economic cost and stable production capacity is the way to win in the market competition. SIMEX Bangladesh's materials have been widely used in major domestic key projects and applied anywhere in Bangladesh. SIMEX Bangladesh's basic and sincere attitude, humbly soliciting opinions and suggestions from all walks of life, in line with the development of the industry market, constantly optimized applicable wick drain products, such as High-Performance Wick Drain, One-piece Wick Drain, Measurable Wick Drain, and High Discharge Capacity wick drain, Strong Drainage Wick Drain to meet customers' needs in different construction conditions.
Contact us
Need to install a prefabricated vertical drain with the best quality materials? Contact us and speak to one of our construction experts, we're always happy to provide you with our services and information over the phone or schedule a time to discuss your project face to face.