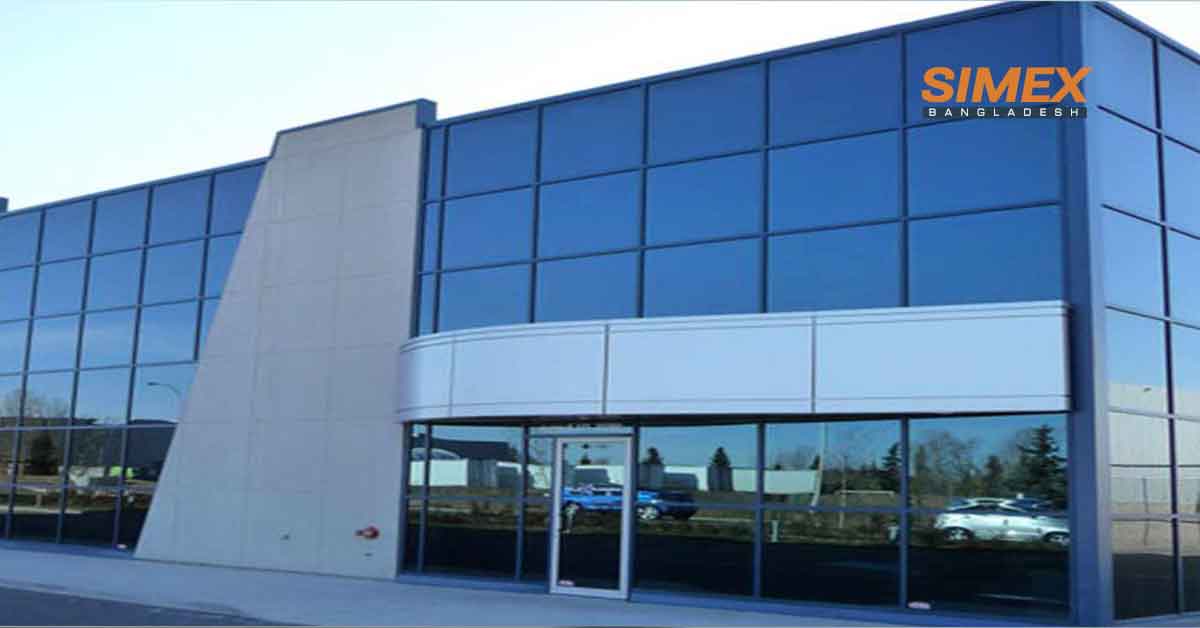 Glass Building Construction Is Easy With SIMEX Bangladesh
Glass has been a fascinating material to humankind since it was first made in about 500 BC. At first, thought to possess magical properties, glass has come a long way. It is one of the most versatile and oldest materials in the building industry.
Glass is now being used in the building industry as insulation material, structural component, external glazing material, cladding material; it is used to make delicate-looking fenestrations on facades as well as conventional windows.
It is most typically used as transparent glazing material in the building envelope, including windows in the external walls. Glass is also used for internal partitions and as an architectural feature. When used in buildings, glass is often of a safety type, which includes reinforced, toughened, and laminated glasses.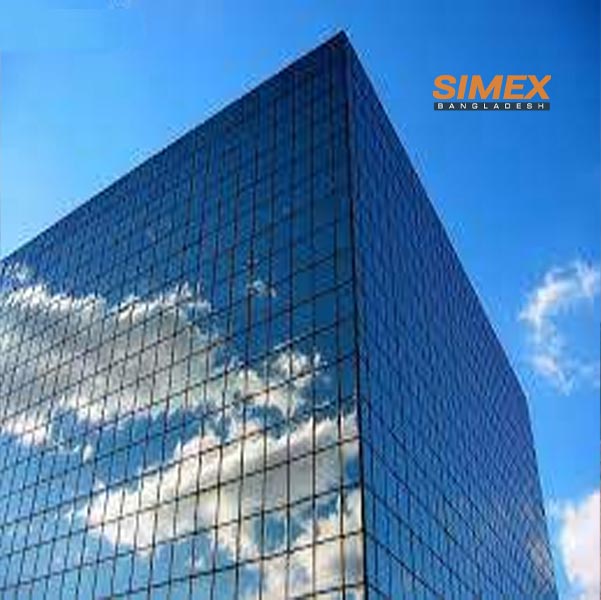 Glass is a versatile material, manufactured by applying intense heat to sand or quartz. It is used in multiple industries, including construction. Glass provides a sleek, clean, and modern aesthetic when used in building facades, giving architects a wide range of design possibilities.
The glass allows innovative designs, and it can be treated to improve insulation and energy efficiency. Large glass envelopes have become very common, especially in urban areas. However, there are many different types of glass, and selecting the right type for a project can pose a technical challenge.
Types of Glass Used in Building
There are four main types or strengths of glass:
1) Annealed Glass.
2) Heat Strengthened Glass.
3) Tempered or Toughened Glass.
4) Laminated Glass.
There are other types of glass. They are –
Float Glass
Tinted Glass
Shatterproof glass
Extra clean glass
Double Glazed Units
Chromatic glass
Glass wool
Glass blocks
Benefits of Using Glasses at Buildings
Aesthetics
Eco-Friendly
Natural Light without the Harmful Rays
Energy Efficient
Reduces Cost
Improves Work Efficiency
Better Protection from Outside Weather
Excellent electrical insulator
Sustainable and Energy Efficient
Glass is recyclable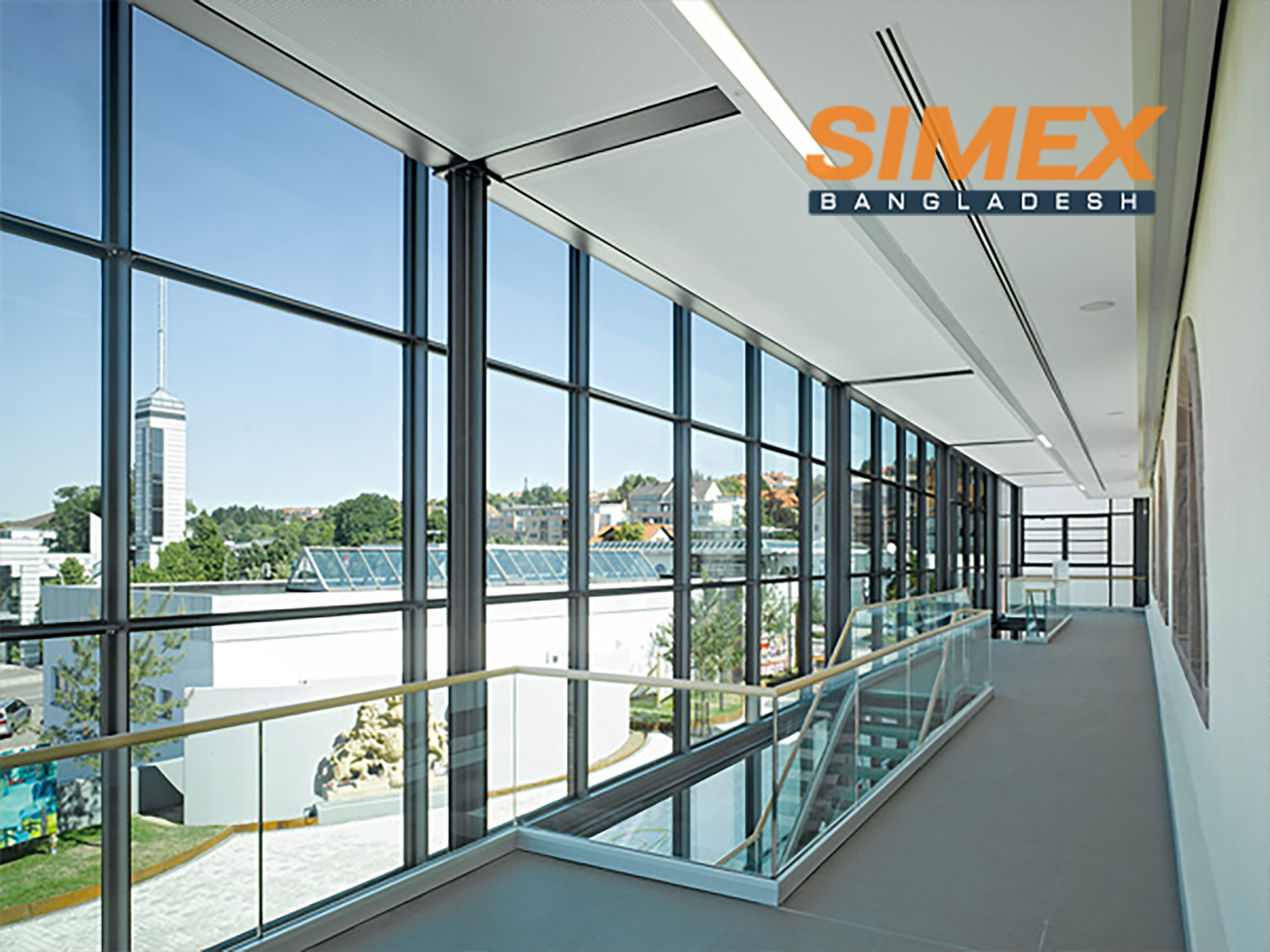 Glass Building Construction Companies in Bangladesh
In Bangladesh, there are many companies that work with glass for decorating a building. SIMEX Bangladesh is one of them.
SIMEX Bangladesh is one of the fastest-growing companies in Bangladesh. Our products are used in diverse applications from general projects. All of our products meet the most stringent requirements as per international standards when it comes to reliability and quality.
SIMEX Bangladesh provides a wide range of construction, industrial, commercial, road, and bridge supplies. We specialize in Steel Pipe, Plate, Sheet pile, Heavy Equipment Sales/Rental, Prefabricated Vertical Drain, Rail Line Ballast, Stone Chips (Dubai, China), and General Purchase.
Our honorable clients are – Bangladesh Economic Zone Authority, Roads and Highway Development of Bangladesh, Local Government Engineering Department Of Bangladesh, Bangladesh Oil Development Board, Italian Thai Development (Dhaka Metro Rail Project), Sinohydro (Dhaka Metro Rail Project), Xingweng Feng Trade Co. & Ltd., Wellstone Co & Ltd and many more.
Services of SIMEX Bangladesh in Glass Building
SIMEX Bangladesh is one of the best glass building companies based in Bangladesh with great engineering experience.
We provide a premium service customized completely to our client requirements. By offering assistance at every step of the contract we ensure to use our expertise to design, assess, and manufacture the right, door, or feature for you are it at your home or the office. We ensure that the manufacturing process takes the least possible time to meet urgent requirements all while using state-of-the-art equipment and working with industry-leading brands for raw materials.
Contact Us
Contact us today for construct your building with high-quality glass, or inquire about what we can do for you. We have dedicated customer service representatives who can answer all of your questions. We're always happy to provide you with our services and information over the phone or schedule a time to discuss your project face to face.