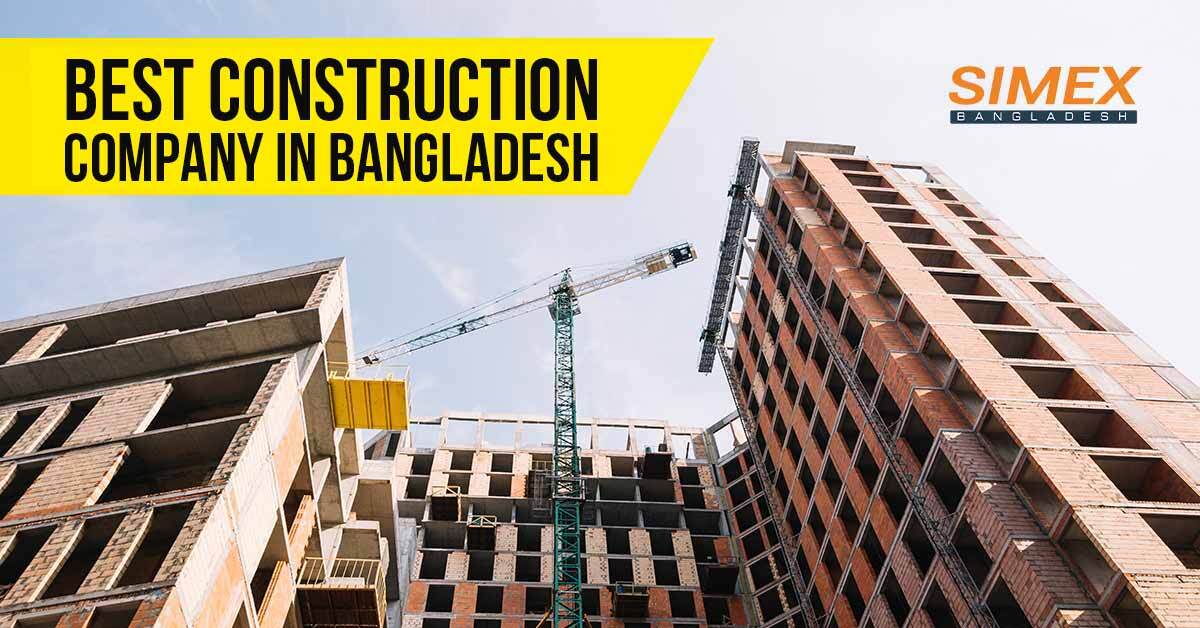 Best Construction Company In Bangladesh In 2022
Whenever we think about constructing something like a house, road, bridge, etc., our minds naturally turn to construction companies. Am I right? Absolutely. Because, with a construction company, we can get everything we need to complete a project from beginning to end.
A Construction company in Bangladesh works on various projects, including Buildings, Roads, Bridges, Railways, and more. They have experienced and specialized builders and developers who are committed to ensuring quality.
If you seek expert assistance with your construction project, you are in the right place. 
You will find many more construction companies nearby when you search for one. But will everyone be able to meet your needs? It is not guaranteed. That's why you have to choose one company that can fulfill your requirements.
But who will meet your needs properly? That's the most confusing part. 
Don't worry. You'll get over this confusion after a while. Because today I'm going to bring the top construction company in Bangladesh in light. With this guide, you can make a wise decision when selecting a name for your construction company. Let's stay with me to the end.
At the very beginning, let's explore why it's so important to contact a construction company.
Why You Come Into Contact With A Renowned Construction Company?
To complete your project smoothly and perfectly, you need to contact a construction company. All Construction companies in Bangladesh carry out the infrastructure and building work. They make whatever is on drawing sheets into reality by constructing it for you.
Construction companies make the process of execution simple for you.

They handle all the responsibilities on your behalf.

They are responsible for all drawing sheets, plans, and related tasks.

Everything is done with their own unique style, and the plan is executed accordingly.

For construction, they have all the latest technology and equipment.

They have highly qualified and experienced consultants.
So, now let's focus on our main point and reveal the top construction companies in Bangladesh.
Top 10 Construction Company In Bangladesh
We are going to present the top 10 best construction company list in Bangladesh below. Have a look at the below section and select which one is best for you.
SIMEX Bangladesh.
Brothers Construction.
Unique Construction.
Abdul Monem Limited (AML).
Pubali Construction Co. Ltd.
Bangladesh Engineering and Construction Corporation Ltd.
Alibaba Construction.
Toma Group Ltd.
Naif Engineering & Builders.
Sheltech Engineering Ltd.
They are the very renowned and best construction company in Dhaka. I will share each of their details with you one by one.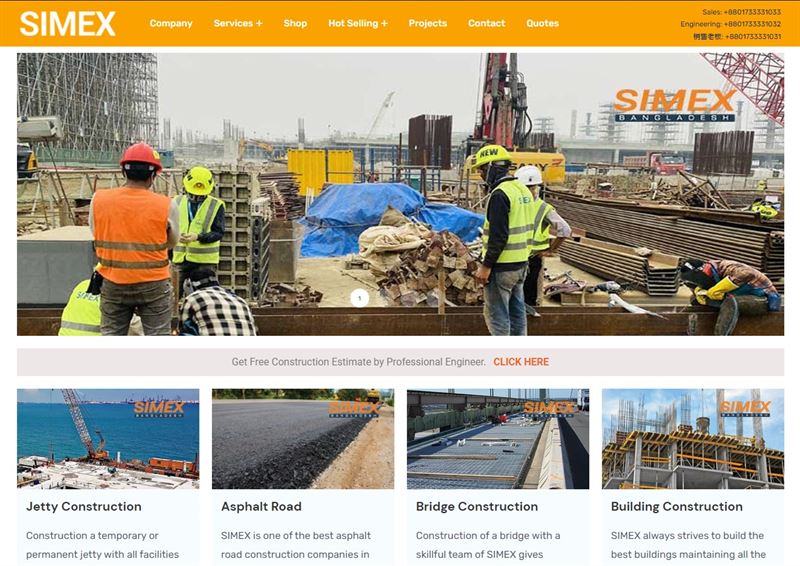 SIMEX Bangladesh is the no.#1 trusted construction company in Bangladesh. It is a well-known, highly reputable company specializing in construction, industrial, commercial, and road and bridge construction. They place a high priority on providing a safe work environment in the construction industry.
Mr. Dewan Shuvo founded SIMEX Bangladesh in 2005. They have achieved success by delivering quality, cost-effective projects to their clients. As a result, they are committed to delivering the highest quality services with integrity, abilities, and passion for results. 
Their specializations include jetty construction, road and highway construction, etc. However, now, they are best known for supplying shipping containers. To complete your construction project at the lowest possible cost and with the highest level of security, you can come into contact with SIMEX Bangladesh. 
This company is my top choice only because of the affordability of its services and its specialty in providing customer satisfaction.
Brothers Construction: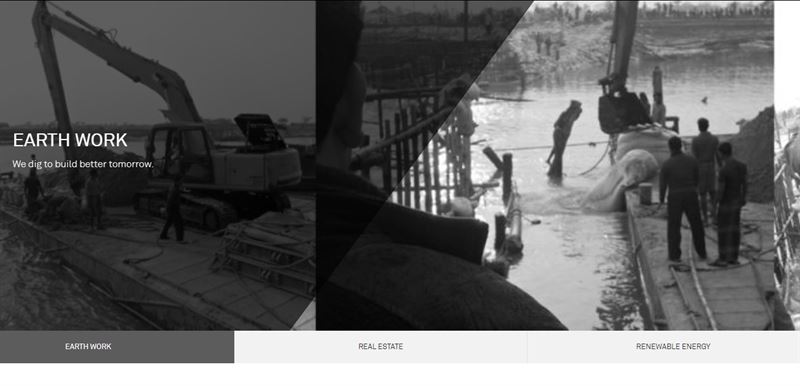 Brother Construction is one of the most trusted and leading construction companies in Dhaka, Bangladesh. In addition to their extensive services, they are renowned for their cost-effectiveness. Their expertise lies in providing construction elements for building roads, bridges, culverts, jetties, etc. 
The company has a block and brick factory. As a leader in the construction industry, Brothers Construction offers sale, rental, and buy-back for types of materials. With a team of highly-skilled young professionals on the management staff, Brothers Construction takes its business forward with innovative ideas. 
They have always been committed to quality, reliability, and commitment to achieve their success. That is why I place Brothers Construction as my second priority.
Unique Construction: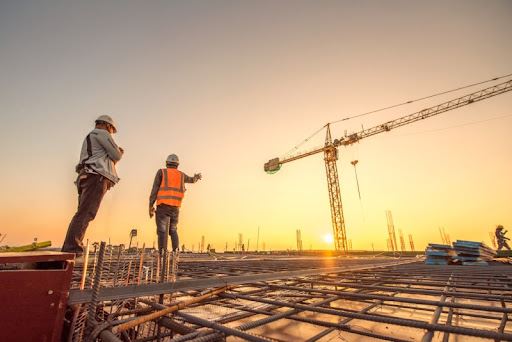 The Unique Construction Company is another name of a construction company in Bangladesh whose name represents them. In Bangladesh, they are considered the king of all unique construction services. 
This company is one of the fastest-growing and most successful construction companies. They manufacture and supply construction materials and specialize in industrial, commercial, road, and bridge construction.
They have worked with a variety of international and government companies as well, including ADC, SAMSUNG, LGED, WALTON, Berger, Sinohydro, and Power China. This company also provides shipping containers with transport facilities. In addition to providing cost-effective solutions for clients, they also ensure client satisfaction.
Right now, you have already known about Bangladesh's top 3 construction companies. There are still 7 more to explore. Therefore, hold your breath and take a closer look at every section.
4. Abdul Monem Limited (AML):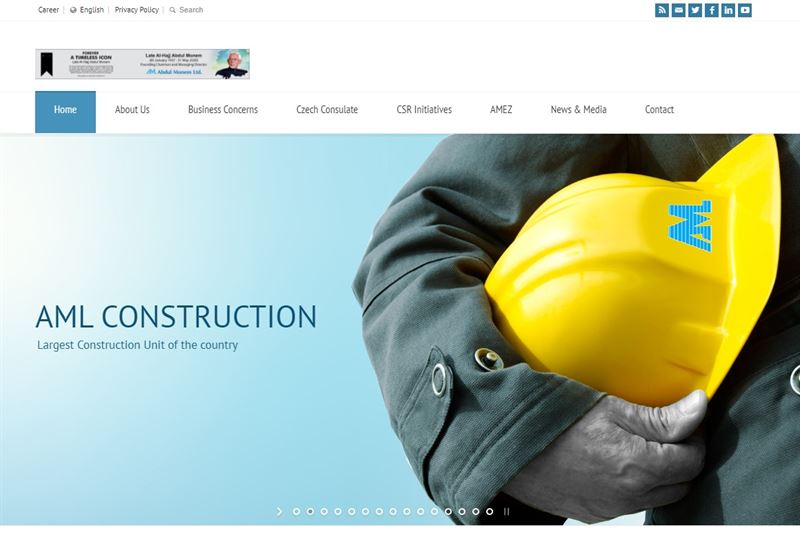 AML is one of the pioneers of the construction industry founded by Abdul Monem Limited in 1957. Over the years, the Company has earned a strong reputation in the country. 
They ensure quality service, complete projects on schedule, and meet the highest construction standards. AML's construction unit also manages the largest fleet of construction-related equipment in Bangladesh. 
Their expertise and state-of-the-art equipment enable them to continue building the horizon of the nation through thick and thin.
5. Pubali Construction Co. Ltd: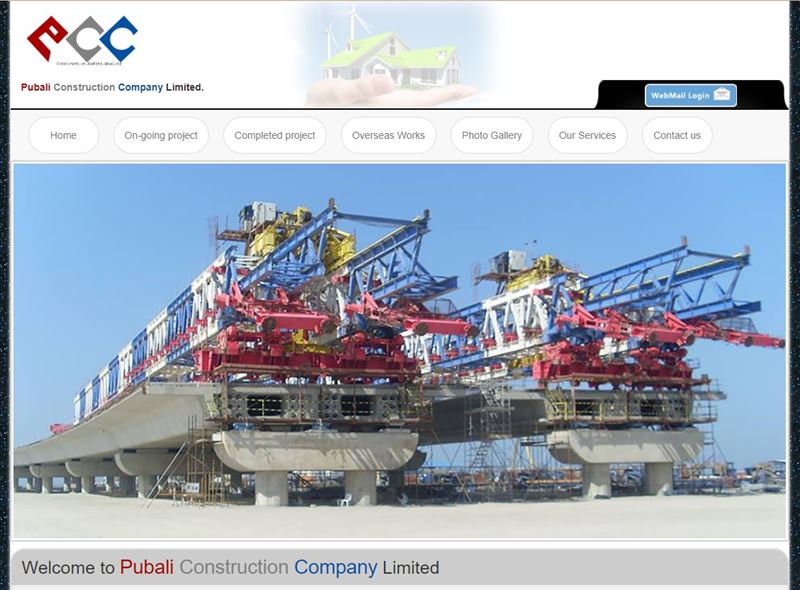 Pubali Construction Company Ltd is transforming the civil construction industry with its unique combination of experience and passion. With a focus on building, construction, highways, and bridges, they are a single, strong company that provides heavy and light civil services.
Pubali Construction Company has also instituted a third-party selection and validation process to maintain its reputation and high quality. They ensure the cleanest and safest work through these measures. 
They add value to their customers' organizations with their skills and knowledge. The company has also completed large-scale projects in Dubai and Abu Dhabi.
6. Bangladesh Engineering and Construction Corporation Ltd: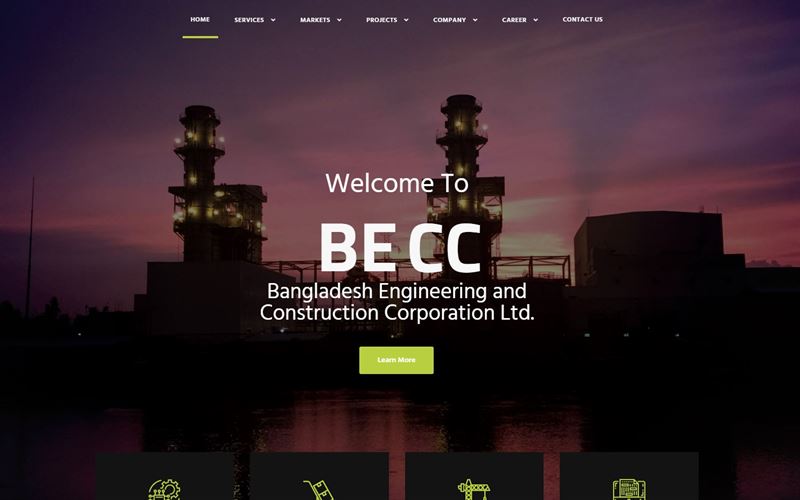 Bangladesh Engineering and Construction Corporation Ltd. was founded to cater to the country's growing infrastructure needs. Due to their professional expertise and experience in this field, the BECC team recognized a gap in the market for quality engineering and construction companies.
Moreover, they see opportunities for growth in power, telecom, railway, and water resources divisions, oil & gas, and construction. BECC has developed multiple projects on a national and international level to stay ahead of the competition. 
Additionally, the company has developed strong technical skills and introduced the most advanced technology in modern engineering and construction.
7. Alibaba Construction: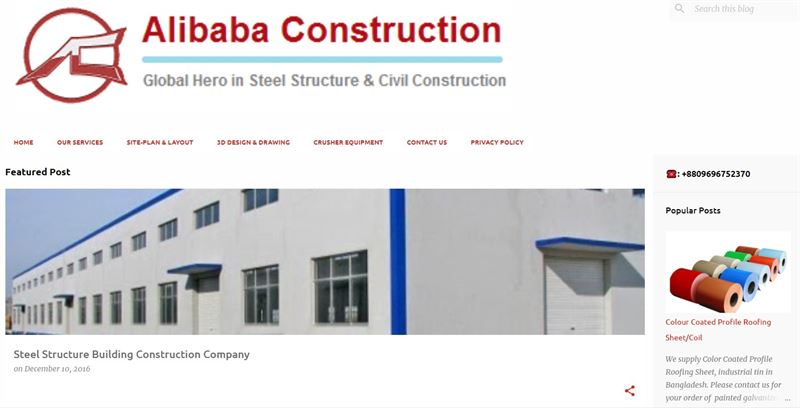 The Alibaba Construction established its name in the construction industry by adapting its capabilities, integrity, quality, and time value. They offers high-quality roofing services to home and business owners.
They strictly adhere to their commitment to quality regardless of whether you are looking for the best residential roofing contractor in your area or a commercial roofing contractor. 
In addition to construction, they specialize in steel building construction, civil construction, concrete construction, design, drawings, supervision, and turnkey construction work.
8. Toma Group Ltd: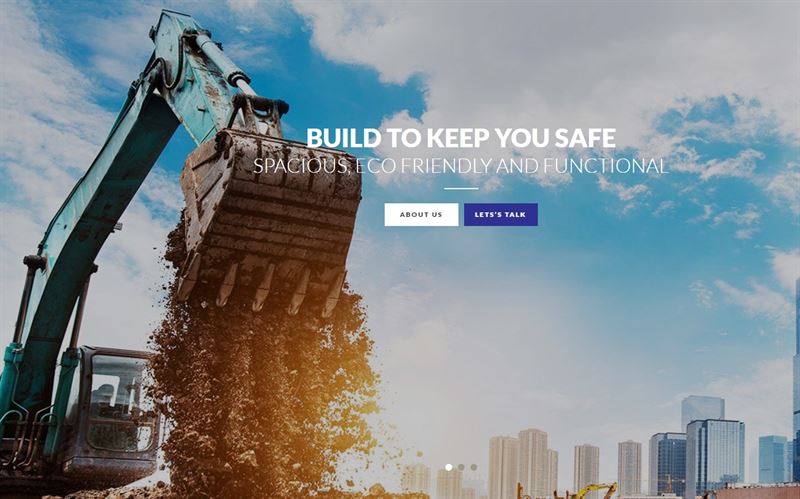 Toma Group is another leading and reputable construction company in Bangladesh.
The company began its journey in 1996, offering valuable services to its customers with a 100% satisfaction guarantee. Their services include highways and roads, bridges and flyovers, buildings and structures, and more. 
This company has delivered a variety of impressive works for a variety of Bangladeshi authorities since its inception. They ensure the best customer service in the housing business by investing in new technologies and growing their use of technology.
9. Naif Engineering & Builders: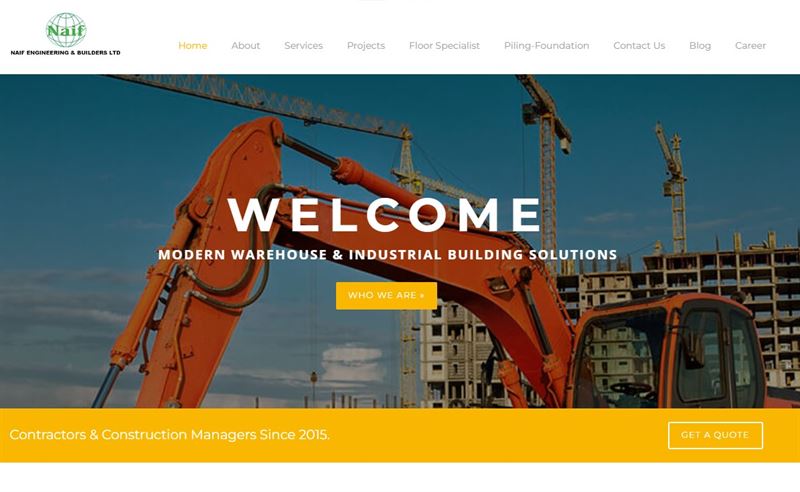 In this country, Naif Engineering and Builders Ltd is a digital and technologically oriented self-sufficient construction firm. Currently, they're working on the biggest Superflat Floor project in Bangladesh. All of the construction equipment & technology they use in their projects is imported from various first-world countries.
They have a skilled and trained engineering & working team. In order to construct a quality project, they are always willing to use their skill & experience.
We have reached the end. Already we know about the top 9 construction companies in Dhaka, Bangladesh now let's move to the last one.
10. Sheltech Engineering Ltd: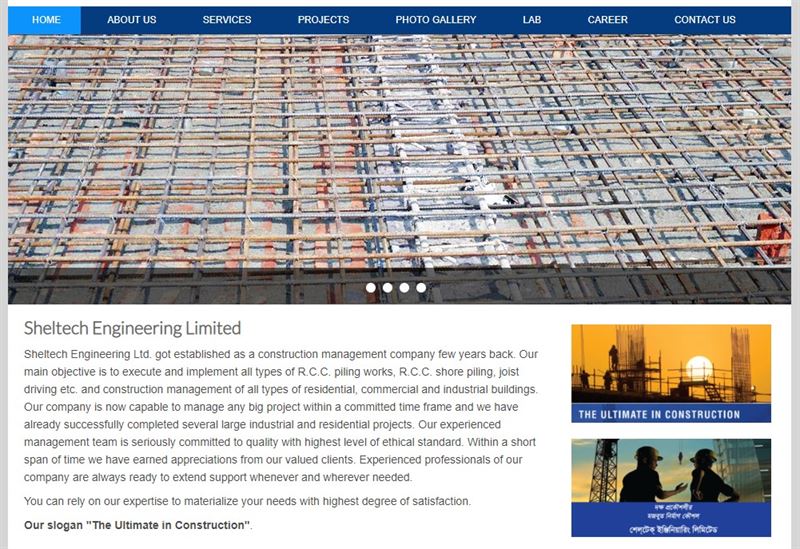 Sheltech Engineering Ltd. is part of the Sheltech Group. A few years ago, Sheltech Engineering Ltd. revealed them as a construction management company. Their main focus is on piling works, shore piling, joist driving, and construction management of all types of residential, commercial, and industrial buildings.
Now they can manage any large project within a committed timeframe and have completed industrial and residential projects. As a result of devotion, sincerity, and hard work, the team maintains the company's stability, reliability, and gradual improvement.
Finally, you have a clear concept of 10 top construction companies in Bangladesh. Hopefully, now, you can select the best one that suits your needs. In my personal opinion, I would recommend going with SIMEX Bangladesh, which is the leading provider in Bangladesh. But I always honor your decision.
Let's take a closer look at some frequently asked questions.
Frequently Asked Questions
How to find a good construction company?
When selecting a construction company for your next project, there are some things to consider.
Select one who has relevant experience.

Know about the project team.

Be ensured of their testimonials, references, and reviews.

Choose one who respects your budget.

Know about their subcontractor.

Examine their licensing, bonding, and insurance.

Know about their security system.

Finally, understand and evaluate your goals.
Which company is best for construction?
Bangladesh has a number of construction companies. Among them, SIMEX Bangladesh, Brothers Construction, and Unique Construction have the best capability to meet one's expectations.
How many construction companies are there in Bangladesh?
 According to the Bangladesh Association of Construction Industry (BACI), an association of contractors and engineers, the country has about 4,000 construction firms.
Conclusion
 As we think of building a home, we can think of terms such as experienced as well as specialized builders and developers. Our top 10 list of Construction Company in Bangladesh ensures a high level of quality and reliability. All of these companies have a great reputation and are well known nationwide.
 To select the right construction company for your project, you should be clear about both the short-term and the long-term goals. Taking this into account, the firms I have selected will be able to provide you with a finished project that meets the needs of your organization.