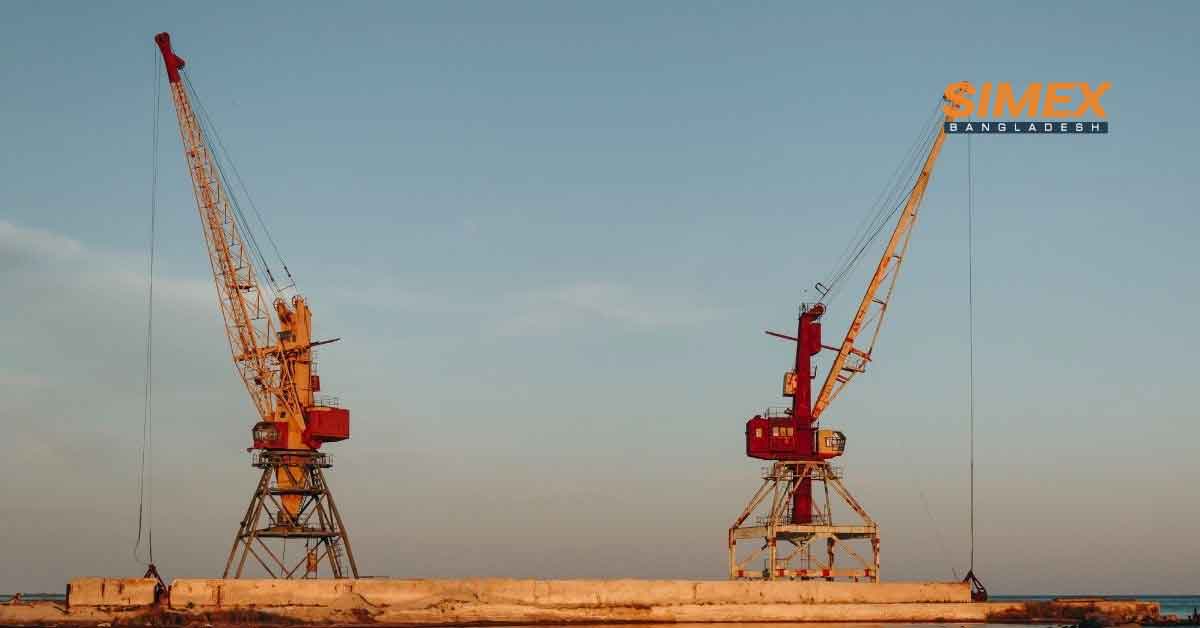 Jetty Construction Service Provider In Bangladesh
Jetty, different types of engineering framework which, connected with river, harbor and coastal works designed to control the present or tide or to protect a harbor or coastal areas from waves. The two principal types of jetties are those constructed at river banks and different coastal entrances and those used for the berthing of ships in harbors and offshore wherever harbor facilities don't seem to be accessible. The jetty construction service is a high demanding business in Bangladesh nowadays. Most of the jetty construction service provider company in Bangladesh also sell sheet piles.
Jetty like structures may be constructed at intervals from the banks of rivers wherever a wide channel should be shrunk to concentrate the present and thus facilitate maintain a passable channel. These structures—variously termed spurs, spur dikes, and groins—may even be projected from the copular aspect of a stream to retard bank erosion.
Roads are still underdeveloped in many remote parts of Bangladesh. There is little opportunity to use the road for infrastructural work. But there needs to run some projects. And in those projects, construction machinery can't be carried by road. The only possible way to reach there and run the projects there is the waterway. For this, the construction of a jetty in the water land is a must. The jetty construction cost is not high.
Jetty Piling
Piling is an important part of the construction process, in spite of whether or not the building is happening toward land or offshore. Because of our long expertise, we have unmatched information on the Asian waters and their seabed situation. Our staff has inheritable the collective information and skill of construction operations.
Piling forms the idea of construction, as well as marine construction because it provides the elemental support required for any kind of structure to be designed. Piling is the procedure of setting deep foundations into the ground, usually using wood, steel, or concrete. Sheet pile is the number one material for making jetty. This creates a sturdy and stable base for construction to start.
Marine piling is the method of building deep foundations into the ground below water level to support buildings and structures that square measure offshore. There's an excellent level of complexity involved when piling underwater, that is why it's imperative that solely certified professionals undertake marine piling. At Jetty and Marine Constructions, we're not solely licensed and qualified to conduct marine and jetty piling however we've additionally had decades of expertise piling in Western Australian waters, which means we're very well-known with the present conditions.
Jetty Maintenance
Ongoing marine maintenance is needed by several jetties and wharves within the Asian region particularly in Bangladesh. Being a coastal region, marine maintenance is a necessary part of life and basic in guaranteeing our aquatic lifestyle remains safe and might still be enjoyed.
Whenever conducting marine maintenance, we have a tendency to take the best care to perform work sensitively, in a manner that minimizes disruption to business enterprise and the environment, along with adjacent beaches and access roads. Jetty maintenance is essential for anyone wishing to preserve their investment and safeguard its longevity.
Jetty Construction Service Provider Companies in Bangladesh
In Bangladesh, there are around ten companies that are working on jetty construction. SIMEX Bangladesh is one of the best jetty construction company in Bangladesh.
SIMEX Bangladesh has developed experience in jetty construction. We have got expertise in jetty design which has comprised constructing marine infrastructure for a wide range of businesses along with ports, government sectors, multinational companies, and other construction companies. As in most coastal and river creek construction plans, careful attention is needed to the strategies of construction used to reduce the impact on the environment.
SIMEX Bangladesh is especially intimate in working within tidal conditions, and if needed, a floating plant is used to help within the construction method. Our jetty design services embrace a comprehensive consultation that aims to stipulate your specific necessities in addition to any size or time restrictions you will have. Our team will offer simple and modified design requirements to full-scale marinas in addition to providing cost analysis before a project commences to understand budget implications. Our jetty construction cost is very cost-effective.
Our Jetty Construction Services
There are two kinds of the jetty construction  services – Permanent jetty construction and Temporary jetty construction. We are providing both of permanent and temporary jetty construction service in Bangladesh.
Jetty service is two different types:
Lighterage Loading and
Lighterage Unloading
At Jetty Constructions, we're qualified and certified to conduct any jetty piling works, this suggests that we are able to pile any structures that require to be installed over the water. We provide a range of jetty piling services and can customize our piling solutions to suit your construction project wants. Our jetty piling includes:
CHS Piles
I Beams
Concrete Piles
Contact Us
Contact with your trusted jetty construction service providing company in BD or inquire about what we can do for you. We have dedicated customer service representatives who can answer all of your questions. We're always happy to provide you with our services and information over the phone or schedule a time to discuss your project face to face.
———-
Sales: +8801733331033
Engineering: +8801733331032
销售老板: +8801733331031
Mail Us:
Head of Sales: [email protected]
Head of Engineering: [email protected]